Modular pressure measurement platform for human gait analysis.
Description
Human Gait Analysis Made Easy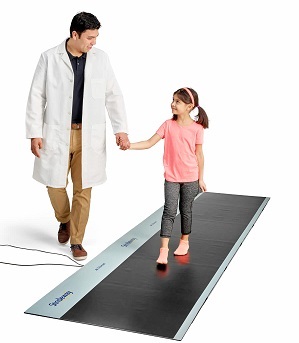 Strideway is a versatile product that can be used for patients young and old.
The Strideway™ is the first truly modular gait analysis platform in the industry. Strideway provides objective information on force and plantar pressure, plus temporal (time), spatial (distance), and kinetic (movement) parameters at the click of a button.
Strideway™ System Features:
Modular platform captures multiple footsteps in a single pass and allows you to choose the system sensing area and sensor resolution
Integrates with other gait lab technologies, such as EMG and motion capture systems
Automated calculation of an array of gait parameters: step and gait time, distance, velocity, and cadence
Automatically detects foot strikes with labels for left or right and number stances from first to last
Foot segmentation aids in calculating toe-in or toe-out angle, compared to the line of progression
Low profile platform reduces risk of tripping and minimizes gait changes and wider to accommodate walkers
Quick set-up and data collection process
Strideway: A Step Above the Rest!
Watch the video above to see how Strideway can put your practice, gait lab or research institution a step above the rest!
Applications
Strideway™ System Applications
Identify asymmetries or gait dysfunctions
Quantify foot function and gait patterns over several strides
Evaluate plantar pressure distribution for asymmetries and areas of high pressure
Monitor improvements post surgery or rehabilitation
Track patient progress with database and comparison reports
Determine the effectiveness of a proposed treatment
Assess high pressures and deviated Center of Force trajectories resulting from foot dysfunction and/or gait related disorders
Evaluate and determine treatments for pathomechanical and neuromuscular foot and gait affecting disorders
Investigate a treatment hypothesis for pathomechanical and neuromuscular foot and gait disorders
Screen for areas of potential ulcerations

Data shown here is from a patient with a walking assistive device (quad cane). The software auto identifies foot strikes and disregards the pressure from the cane.
Clinical Gait Analysis with Strideway
See Margie King, PhD, perform a clinical gait analysis using the Strideway System.
For another example of clinical usage, download this case study to see how a clinician was able to validate a treatment plan for a patient with Cerebral Palsy.
Research Validated Solutions
Numerous articles have been published regarding computerized multi-step gait analysis and its applications. Tekscan has compiled a list of these research publications in our Medical Bibliography.
Configuration
Strideway™ System Components
Strideway™ is a modular gait analysis system available in lengths from 1-5 meters long. This system includes the embedded scanning electronics, software, and patented thin-film sensors. With simply two cords, one power cord and one USB cord per system, set up is streamlined and efficient.
The system comes with 2 end caps to help patients/subjects reach their comfortable gait prior to capturing the data, eliminating the need to discard steps or clean up the data in post data collection analysis.

Strideway is modular up to 5m. A 4 tile system is shown here.

Top view of Strideway 4.
* Components depend on system configuration. Additional items may be included with your system purchase.
Award Winning Technology
Strideway was selected as a winner in the 2018 R&D 100 Technology awards for the category Analytical/Test. The R&D 100 Awards honor the latest and best innovations, identifying the top technology products of the past year. Since 1963, the R&D 100 Awards have identified revolutionary technologies introduced to the market. For more information visit their website.
Sensors
Strideway™ Pressure Sensor Configuration
Standard Resolution
(Adults)
Medium Resolution
(General Purpose)

High Resolution
(Pediatric)

System Model
SRSW2 - SRSW8
MRSW2 - MRSW8
HRSW2 - HRSW8
Sensor Model
3160
3162
3164
Resolution
0.968 senselsTM/cm2
6.25 sensels/in2
2.19 sensels/cm2
14.3 sensels/in2
3.88 sensels/cm2
25.00 sensels/in2
# of Sensing
Elements
4,096
9,120
16,256
Models
Model
Active Sensing Area
Overall Dimensions
with End Tiles
Strideway 2
0.65 x 1.3 m
2.1 x 4.3 ft
0.91 x 2.60 m
3.0 x 8.5 ft
Strideway 3
0.65 x 1.95 m
2.1 x 6.4 ft
0.91 x 3.25 m
3.0 x 10.7 ft
Strideway 4
0.65 x 2.60 m
2.1 x 8.5 ft
0.91 x 3.90 m
3.0 x 12.8 ft
Strideway 5
0.65 x 3.25 m
2.1 x 10.7 ft
0.91 x 4.55 m
3.0 x 14.9 ft
Strideway 6
0.65 x 3.90 m
2.1 x 12.8 ft
0.91 x 5.20 m
3.0 x 17.1 ft
Strideway 7
0.65 x 4.55 m
2.1 x 14.9 ft
0.91 x 5.85 m
3.0 x 19.2 ft
Strideway 8
0.65 x 5.20 m
2.1 x 17.1 ft
0.91 x 6.50 m
3.0 x 21.3 ft

Strideway fits into a case for easy storage and transportation.
Don't see the size you need? Contact us to discuss.
Software
Simplified Data for Gait Analysis
Actionable gait information is displayed in a variety of ways including graphs, pressure profiles, tables or charts to allow for rapid identification of asymmetries, abnormalities or treatment effectiveness.

Force vs. Time curves reveal the foot loading patterns of both the right and left feet.
Accurate spatial, temporal, and kinetic parameters
Plantar pressure measurements and force data
Visible biofeedback for patient education & compliance
Isolate and analyze specific areas of plantar foot
Shows averaged pressure profile display for selected multiple foot strikes
Automatic calculation of gait parameters & display in tables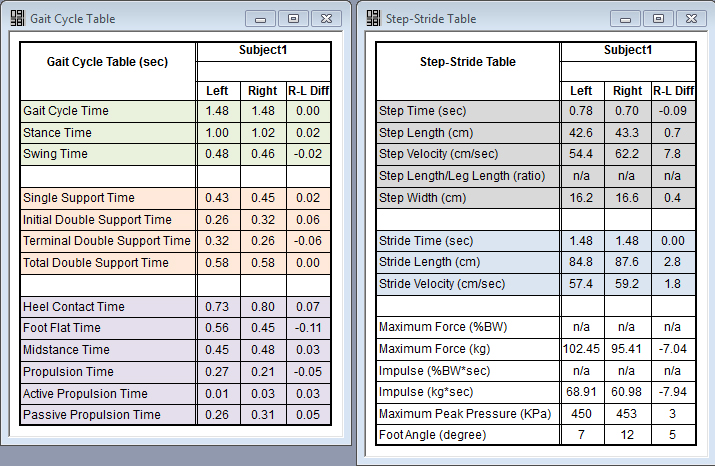 Easily identify asymmetries between sides with R-L Difference provided in the gait tables.
Gait Table: Shows key values for an entire gait cycle
Gait Cycle Table and Step-Stride Table: Provides individual data for each foot, and differences between the feet (right minus left)
Symmetry Table: Provides a symmetry score (or index) between left and right sides (in %)
Differential Table: Provides comparative of differences between left and right sides
Strideway™ Software Features

Segment the foot to analyze specific areas of the foot for detailed analysis.
Display 2D and 3D real-time and recorded data
Side-by-side comparisons of pre- and post-treatment conditions
Frame by frame, single, and multi-stance phase displays
Display pressure and force curves over time
Import and export client movie files
Display Center of Force and its trajectory
Strideway systems are compatible with 64-bit operating systems only. All Tekscan software works with current Windows® based operating systems. To view the complete computer requirements click here.
The software is available in several language including Spanish, French, and German. View software languages available.
Add-ons
Add-Ons
Optional software add-ons can be purchased for an additional cost. A software development kit is also available that enables you to build your own applications.