Ultra-thin, in-shoe sensors capture timing & pressure information for foot function & gait analysis.
Description
What is the F-Scan™?
The F-Scan™ system provides dynamic pressure, force and timing information for foot function and gait analysis. Information obtained from the F-Scan is used in real-world applications, like designing and testing orthotics, offloading diabetic feet, and evaluating footwear and techniques in elite athletes.
F-Scan for Researchers:
Researchers can feel confident using the best-in-class tool for profiling anatomical locations on the plantar surface. Research software is available with additional features for more in-depth analysis.
Offers the highest resolution sensors available for accurate data
Synchronize recordings with other complimentary gait lab products like video, EMG and 3-D motion capture systems
Captures temporal parameters in addition to pressure and force
Displays force vs. time graphs and pressure profiles in real time
Position and trajectories for center of force (CoF) during stance phases of gait
F-Scan for Clinicians:
Leading podiatrists, physical therapists, certified pedorthists and orthotists/prosthetists around the world have benefited from using the F-Scan System. Now, clinicians can generate print-friendly reports for documenting patient progress at the click of a button.
Aid in identifying pathologies and making accurate diagnoses
Objectively evaluate the effectiveness of orthotics and treatments
Educate patients about their pathologies and treatments
Increase patient satisfaction and generate more referrals
Provide documentation of treatments and progress
Applications
The F-Scan™'s Versatility Makes it Suitable for a Variety of Applications & Industries
Observe/evaluate foot function and gait abnormalities
Monitor degenerative foot disorders
Assess effect of orthotics on foot and gait biomechanics
Identify areas of potential ulceration
Evaluate athletic footwear
Footwear research & design
Perform and document pre- and post- injury assessments for safe return to play
Regulate weight bearing after surgery
Compare pre- and post-surgery conditions
Assess high pressures due to ray hypomobility
View our bibliography to see the broad depth of applications for the F-Scan™.
Application Flyers
Download the flyers below to learn more about the different applications possible with our products:
Configuration
F-Scan™ System Connection Options
A Tekscan system consists of scanning electronics, software and patented thin-film sensors*.
The F-Scan™ system is available in different connection types depending on your needs.
F-Scan Base (Tethered): Wires connect the sensor and scanning electronics on the subject to the computer via USB port.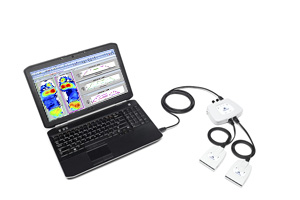 The subject can be a distance of up to 30.5 meters (100 ft).
Dynamic events are captured with high scan rates up to 750 Hz.
---
F-Scan Wireless: Data is transmitted directly from the subject to the computer, allowing for a wide range of applications.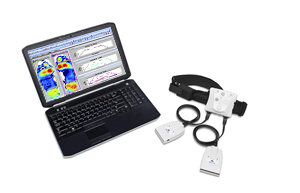 The subject can be up to 100 meters (328 ft) away and data can be recorded and displayed on the computer in real time.
Scanning rates of up to 100 Hz are available with wireless connectivity.
---
F-Scan Datalogger: Collects and stores sensor data in its internal memory for upload to a computer at a later time.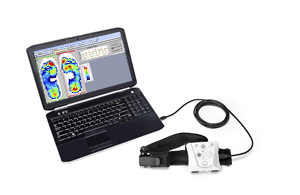 The datalogger system is ideal for use when a recording needs to be made over an extended period of time.
Scan rates of 750 Hz can be achieved.
---
F-Scan Wireless & Datalogger: With both options available, there is complete flexibility.
---
*Sensor selection dependent on application
When you choose a system that uses VersaTek™ electronics, it is possible to share electronics for other Tekscan systems to reduce your costs. Giving you the ability to add pressure measurement platforms prosthetic, grip, and seating & positioning capabilities to your Tekscan System.
Sensors
Acccurate, reliable, best-in-class sensors
F-Scan™ sensors have optimal spatial resolution for in-shoe pressure measurements. The sensors are ultra-thin yet durable enough to last for multiple trials.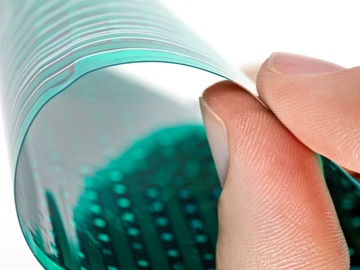 Sensor Specifications
3000EThe standard in-shoe resistive technology sensor used for most standard applications
Pressure ranges of 50-75 psi/345-517 kPa (sensitive) to 125 psi/862 kPa (standard)
Assess subjects while in motion using 960 sensing elements
Extremely thin (0.007 in/0.15 mm) sensor that fits insole sizes up to a men's 14 USA
Ultra-thin F-Scan™ Sensors for a Variety of Applications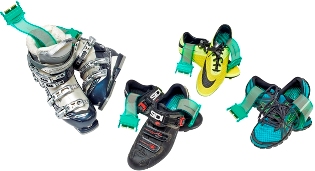 Trimmable F-Scan sensors can fit into nearly any type of footwear.3001E An extended sensor tab allows for use with high-ankle footwear such as ski, military or work boots
3005E An extra large in-shoe sensor, trimmable down from a men's size 24E USA
Software
Accurate & reliable information for foot function & gait analysis
F-Scan 3-Box Analysis segments the foot into 3 key regions.
View force vs. time curves in real time
Compare pre- and post-recordings to evaluate treatments
Force-time integrals (Impulse)
Frame by frame, single, and multi-stance phase displays
Import and export client movie files
Display Center of Force and its trajectory
Improved algorithms to differentiate between initial contact and final contact to reduce residual pressures
See for yourself the valuable insights into the gait cycle provided by the F-Scan™ System!
Actual software recording synchronized with illustrations of the gait cycle. Please note gait cycle illustrations are not included in the software.
Save time analyzing data and writing reports with automated analysis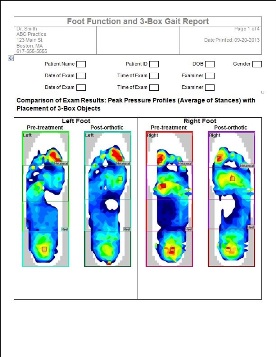 Sample page from the auto-generated 3-Box report.
Automated 3-Box Analysis generates a comprehensive report at the push of a button.
Segment the foot into three key regions for a more detailed analysis: heel, metatarsals and total foot
Generate table of gait parameters including: step, stride, stance and swing times
View a sample 3-Box Analysis report
Peak Pressure Analysis identifies and quantities peak pressure areas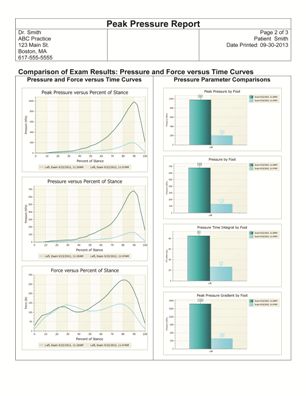 Sample page from the autogenerated Peak Pressure Report.
Automatically general report with before and after comparisons
Confirm the efficacy of offloading treatments
View a sample peak pressure report
Tekscan offers two versions of software depending on the application of the system, clinical software (base) or research software. The research software contains additional features such as:
Export to Excel or MATLAB® and save to ASCII
Additional calibration points
External trigger synchronization with external devices (such as EMG, force plates and motion capture systems)
Movie frame editing
All Tekscan software works with current Windows® based operating systems. To view the complete computer requirements click here.
The software is available in several languages including Spanish, French and German. View software languages available.
User Experience
"One power of the F-Scan™ system lies in the immediate and totally obvious visual feedback. Most cases are definitive even without referring to the staggering ability of the software to represent the data in any way you can think of. This simplicity combined with the fact that it is a foolproof means of pre- and post-testing treatment methodology makes this system invaluable to the clinician."
Larry Pace, PTA, CSCS, USA Triathlon Coach, SATORI Physical Therapy & PACE Sports Training, Orange, CA
Add-ons
Optional Add-Ons
Software
Hardware
The TT-1 and TR-1 are functionally compatible with the F-Scan Datalogger, though it is not considered a medical device. The Wireless Trigger/Receiver is FCC and CE certified and is also compliant to EMC radiated emissions requirements. Certifications are available upon request.