Video - Technology to help determine when Youth Athletes are ready to Return from Injury
Youth sports are important to a child's growth in many ways. Not only are athletics a great source of exercise to help them develop strength and endurance early in their lives, but they teach children important life skills around teamwork.
However, injuries are always possible with all athletic activities. If a child suffers an injury, clinicians must construct unique rehabilitation programs suitable for the child and their development stage. This is especially important if the injury is severe where an ill-advised clinical decision could affect the child's function later in life.
Moreover, a child may be more timid or unable to perform certain tests required to gather essential data to build and track rehabilitative plans. These factors can make pediatric return-to-play assessment challenging.
When treating children for a lower-body injury, low-profile modular gait analysis technology has shown to be a useful method to collect insights into pediatric gait, foot function, and balance. For instance, the Strideway system is transportable, can be set up at different lengths, and sits less than an inch off the ground, making it easier for children to walk across and assess their gait patterns.
In the video below, Marshall Kendall, PhD., demonstrates how to use the Strideway system in a pediatric pre-and-post injury assessment application.
Watch the 5-Minute Strideway Demonstration Video from the Player Below
Would you be Interested in Learning More about the Strideway?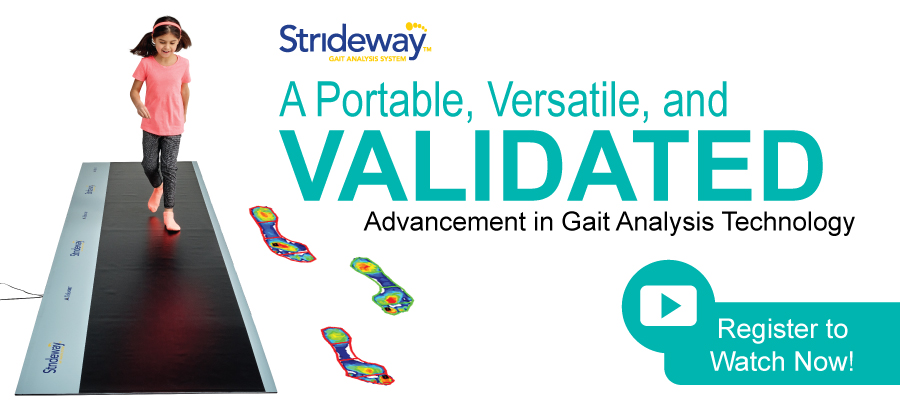 Hosted by Medical & Dental Product Manager, Alyssa Rubino, this webinar will uncover how Strideway could be the missing tool for your gait research providing you with flexibility and accurate gait data.
Fill out the Form Below to Watch this Webinar Now!