Data for Objective Return-to-Activity Decisions
Easily assess patients for injuries or asymmetries, as well as measure and monitor the progress of rehabilitation. The quantitative data from SportsAT™ can help you feel more confident returning patients to daily activity. Add objectivity to a variety of functional rehab and performance tests.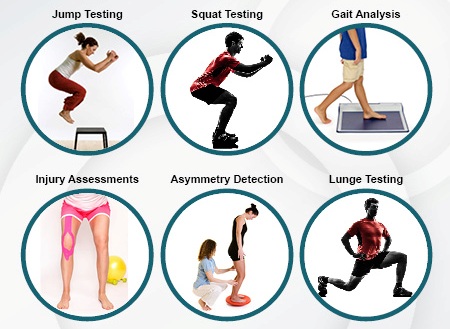 Portable, Multi-Use Testing Tool
Tekscan's portable pressure measurement mat works with SportsAT Software to offer one solution, that can be used in a variety of different applications: chronic ankle instability assessments, lower extremity injury assessments, gait analysis, static/dynamic balance testing and MORE!​ This light-weight and durable mat can easily be transported for assessments anywhere and requires minimal set-up time.

Monitor Treatment Progress Over Time
Integrate technology that provides objective and quantitative information for balance assessments. Quickly and easily identify asymmetries which might otherwise go unseen.
Comparison reports make it easy to evaluate pre/post results and the effectiveness of rehabilitation.

Rehab Balance with Visual Biofeedback
The Balance Compass™ provides real-time balance information to aide in rehabilitation.
Learn more: Watch the Webinar 'Objective Measures to Aid in Rehab & Treatment Plans'
Watch the webinar demonstration to see how the quantitative data provided by the MobileMat™ withSportsAT can bring more confidence to your return-to-activity decisions.