Quantify forces applied by the human hand while grasping objects.
Description
Tactile Grip Force and Pressure Sensing
The Grip™ system measures and evaluates static and dynamic pressures from grasping objects. Grip measures interface pressure for human hand and finger gripping applications to assess comfort, design, and ergonomics. The system is used to improve design for a more ergonomically sound product, study carpal tunnel and repetitive motion syndrome, or analyze the human hold on various tools and sports equipment. It is an ideal tool for collecting vital information and insight to enhance product design, manufacturing, quality, and research.
Key Features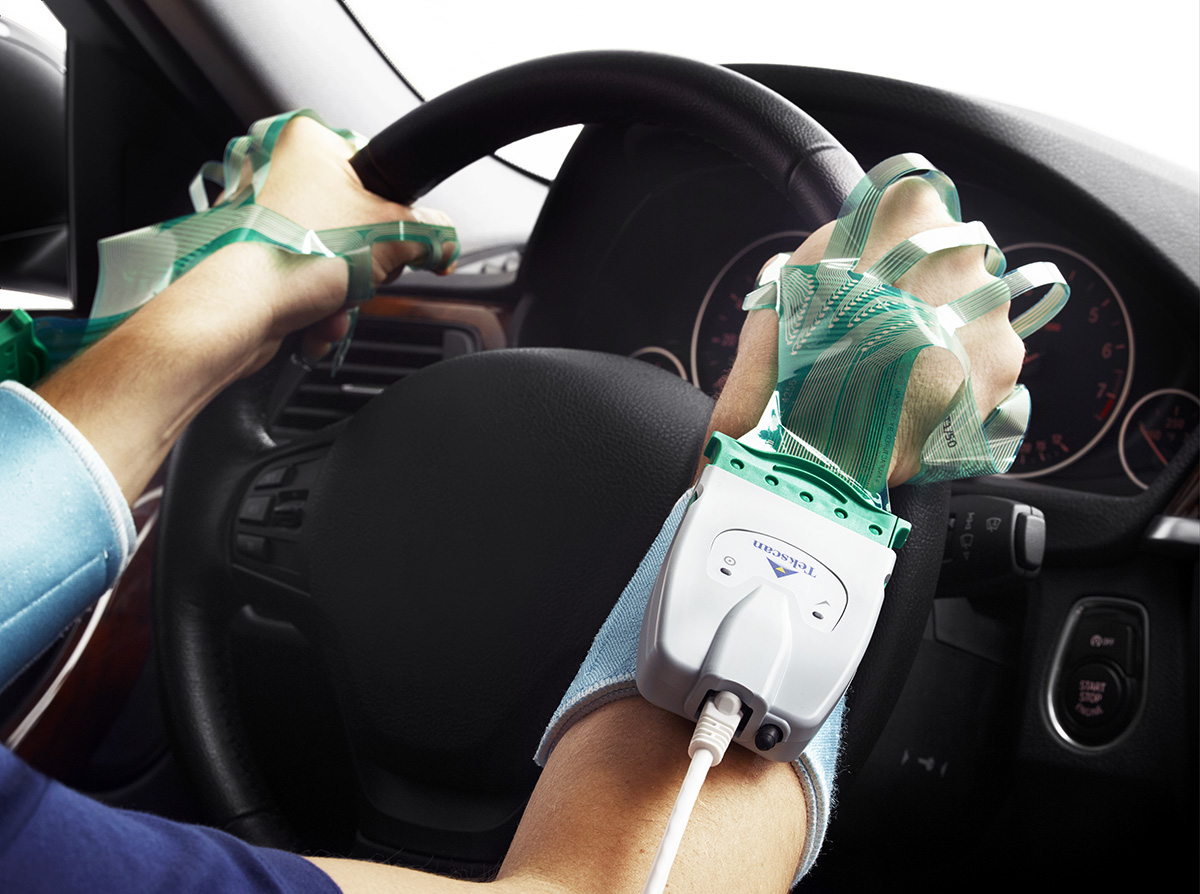 System
Simultaneous measurement of left and right hands
Numerous independent sensing elements for localized detection of pressure points
One subject can grip several objects in many ways, once the hand is instrumented
High scanning rates of up to 750Hz (tethered version)
Sensor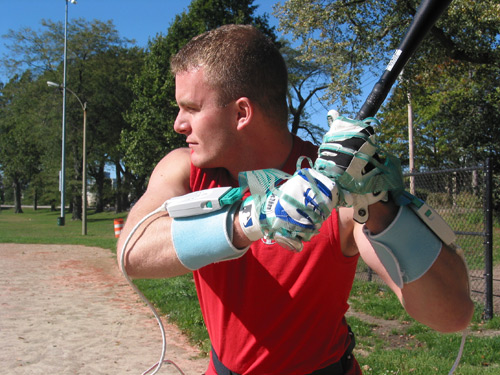 Grip Wireless for Bat Grip Evaluation
Sensor form factor allows for full range of hand motion
Paper-thin sensor does not affect the grip "feel"
One size fits all
Durable and reusable
The Grip system is available with the following hardware choices: Tethered, Wireless, and Datalogger. See the configurations tab for more information.
Configurations
Grip™ System Configurations
The Grip™ System is available tethered or untethered for increased mobility and range of measurement. Your specific application will determine the best-suited connection type.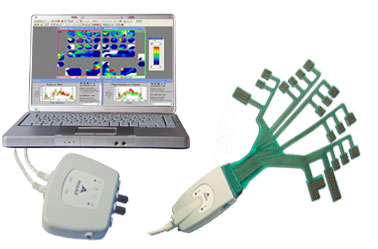 Tethered Model
Every VersaTek™ based system uses specially designed scanning electronics called Cuffs. The Cuffs connect to the sensor to gather data, which is then processed and sent to your computer, via USB connection. VersaTek electronics sample at the fastest speeds and are compatible with other VersaTek sensors, giving you the ability to add in-shoe, prosthetic, grip, and seating & positioning capabilities to your Tekscan System.
Setup

Components

Grip Tethered

Wires connect the sensor and scanning electronics on the subject to the computer via USB port. Dynamic events are captured with scan rates of up to 750 Hz.

Grip Wireless

Data is transmitted directly from the subject to the computer, allowing for a wide range of applications. The subject can be up to 100 meters away and data can be recorded and displayed on the computer in real time. A 100 Hz scan rate is available with wireless connectivity.

Grip Datal​ogger

Collects and stores sensor data in its internal memory for upload to a computer at a later time. The subject can travel over 100 meters from the computer and can be used when a recording needs to be made over an extended period of time. Scan rates of 750 Hz can be achieved.

Grip Software CD
8 GB Memory Card

Grip Wireless/Datalogger

Hub is configured to support both Wireless and Datalogger functionality.

Grip Software CD
8 GB Memory Card
To learn more about the data acquisition electronics and sensor performance specifications, please visit the Technology page.
---
Components depend on system configuration. Additional items may be included with your system purchase.
Sensors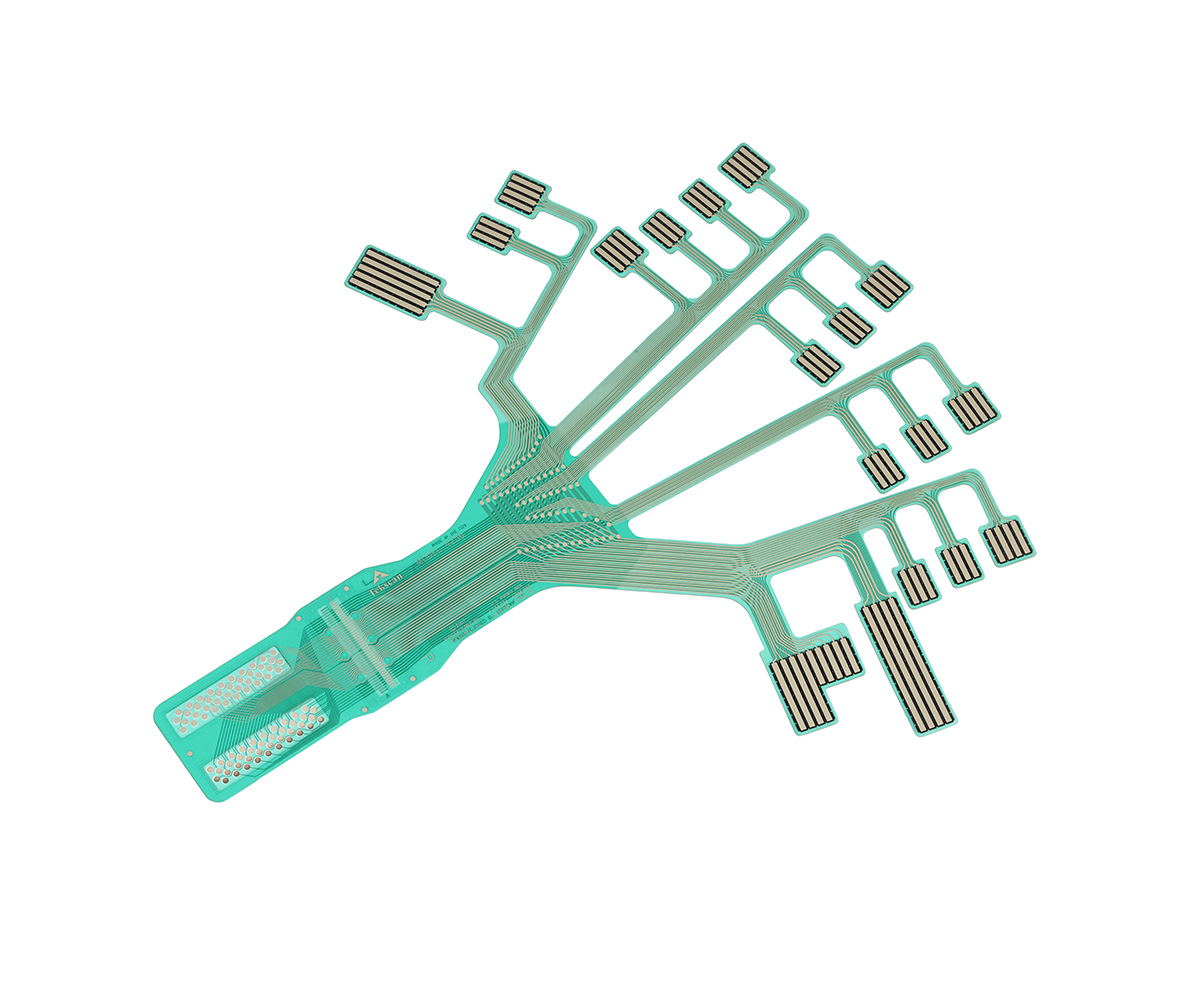 Grip Sensor Model 4256E
Sensors
The Grip™ System uses a thin, high-resolution sensor that can be used directly on a hand or built into a glove. Each sensor has eighteen sensing regions that can be individually positioned over important anatomic sections of the fingers and palm. Gaps between the sensing areas allow the joints to be avoided, move freely, and not interfere with grip measurement. Each sensing region has multiple sensing elements (Sensels™) for localized identification of pressure points on the hand.
Software
Key Features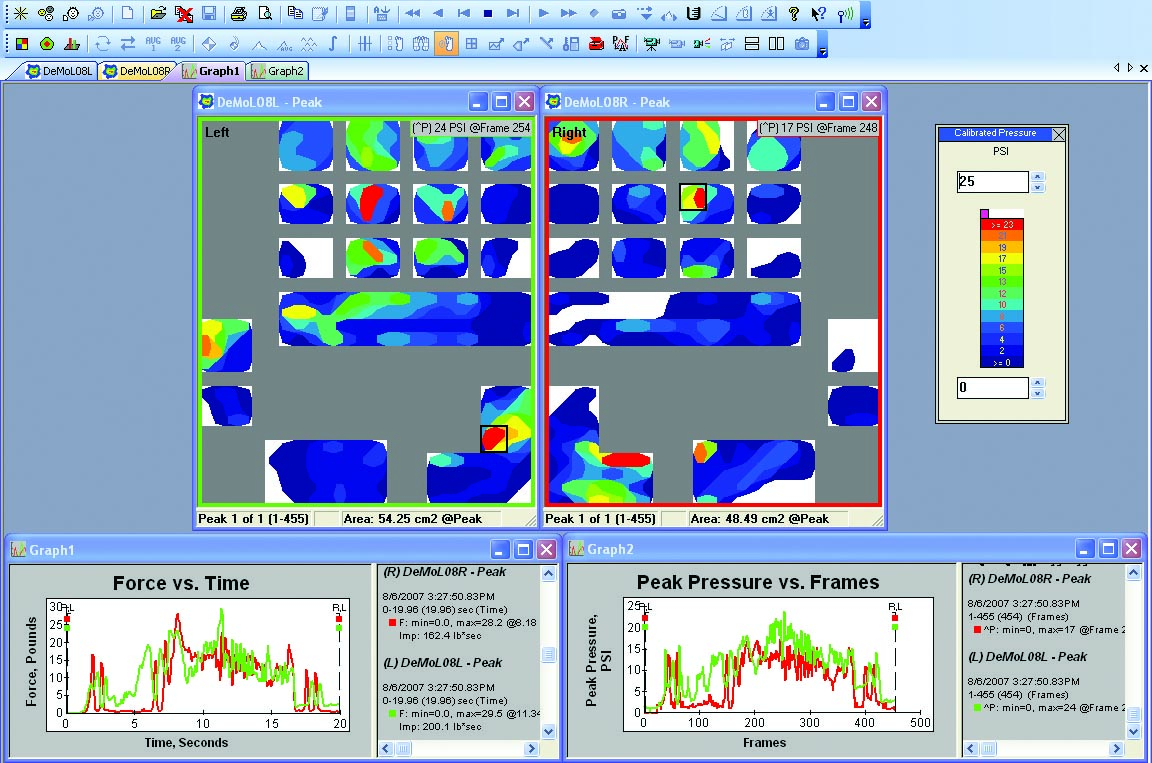 Example of grip pressure data while subject operated an industrial floor polisher.
Access real time or recorded data in 2D & 3D
Key metrics; total force, peak pressures, and center of force
Multiple graph options to plot data
View and compare multiple test results simultaneously
Ability to attach a digital image to each frame of a Tekscan movie
Export data to ASCII or AVI files
The software is available in several languages including Spanish, French, and German. View software languages available.
Electronics
Data Acquisition Electronics
Data Acquisition Electronics connect to the sensor to scan the sensing elements and digitally send data to a PC. Electronics are included with a system, but additional equipment may be needed for more complex applications. System breakdown and product specs can be found on the configurations tab.
Electronic Components for System Add-on
Some system add-ons require hardware to interface with external inputs. A complete list of system add-ons can be found on the add-ons tab.
Add-Ons
Grip™ System Add-ons
Optional add-on packages are available to provide additional functionality to pressure mapping systems. The features streamline data acquisition, interface with 3rd party devices, or synchronize pressure mapping recordings with video.
Electronic Components for System Add-ons
Some System add-ons require hardware so users and external devices can interface with the pressure mapping system.
The equilibration process compensates for any variation or uneven output across individual sensing elements caused by manufacturing or repeated used of the sensor.
Applications
Grip™ System Applications
Ergonomics

Vibration studies, Carpal tunnel syndrome, heavy lifting

Improved product design
Sports applications

Baseball bat, golf club, tennis racket

Robotics
There have been a number of research projects conducted where Tekscan's pressure measurement technology has played a crucial role. To view the list of these research studies:
Download the the bibliography for Pressure Mapping Applications
---