Overview
Validated Balance Platforms
Tekscan's balance platforms use our validated pressure sensors and protocol driven software to analyze balance for a variety of applications. The objective data obtained from our balance platforms aides in the identification of balance and stability problems. Reporting features in our proprietary software enhance patient education and improve documentation. Whether you are looking to assess postural stability, perform sway analysis, fall risk or concussion assessments Tekscan has a solution.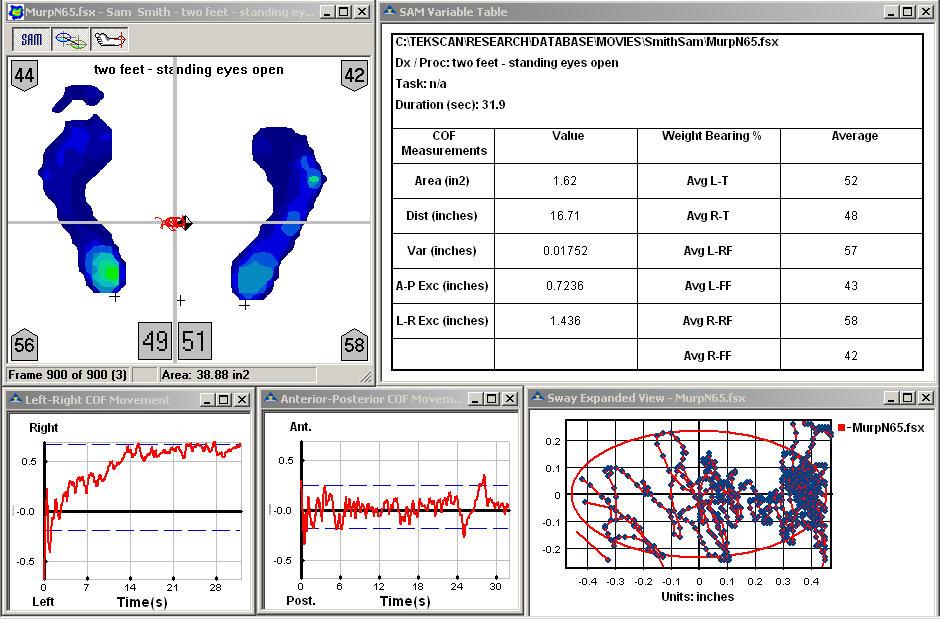 SAM software displays pressure profiles along with Center of Force movement and the sway ellipse.
With our SportsAT™ Software, perform a comprehensive concussion assessment through automated protocols for the Sports Concussion Assessment Tool (SCAT3™) and the Balance Error Scoring System (BESS).
The Sway Analysis Module™ (SAM™) detects and measures key stability parameters that would otherwise be unseen by the naked eye. Clinicians and researchers count on Tekscan's balance platforms for their portability, reliability, objectivity and validity.
Multiple Mats to Choose From
With several options available, the mats provide maximum flexibility for the types of applications and environments the system can be used.
The MobileMat™is our newest mat offering a durable platform with enclosed electronics for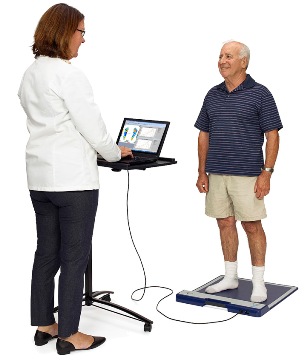 MobileMat is shown above. optimal portability with minimal set up time. Standard and high resolution options are available.
The SB Mat™ is Tekscan's wider, more durable pressure mat for sports performance assessments.
The ClassicMats, which includes MatScan™ and HR Mat™, are our traditional low profile platforms, which made Tekscan a world leader in pressure measurement platforms. The ClassicMats have been validated in research studies by leading researchers worldwide. High resolution is available for applications involving pediatric populations or for when added resolution is key.
When you choose one of Tekscan's balance platforms, you are able to select from different compatible software options to find the best one to meet your needs.
Watch a video on Sway Analysis
Marjorie King (PhD, PT, ATC) demonstrates the Sway Analysis Module (SAM) software for Tekscan's Balance Platforms.
Products & Solutions
Platform Products
Tekscan's balance platforms can be found in clinical and research settings worldwide. The mats are available with different connectivity choices as well as several sensor and software choices. Learn more about the different platforms and configurations available!
Applications
Applications
Learn more about the versatility of Tekscan's balance platform applications with real-life case studies.
Trusted, Proven Solutions
Numerous articles have been published using Tekscan balance platforms. Tekscan has compiled a list of these research publications in our Medical Bibliography.