Effectively Monitor Patient Progress
Tracking progress during rehabilitation can be difficult, which is why it's essential to have objective tools to confirm a patient is progressing in their rehabilitation. In this case study, the patient was evaluated initially then given therapy exercises to strengthen the weak areas.
When the patient returned for a follow-up visit, the clinician did not see improvements. See how objective insights from SportsAT helped the clinician validate lack of patient progress and adjust accordingly until desired results were achieved.
The MobileMat is a portable, pressure measurement platform.
Patient Background: 35 year old male, long distance runner, who competes at distances of 50 kilometers, 100 kilometers and more.
Symptoms: The patient was suffering from instability in the right ankle with occasional pain in the ankle joint, which was affecting his running.
Evaluation: The patient was tested on the MobileMat™ with SportsAT™ software to assess ankle joint stability.
Technology to Validate Patient Progress
Using the SportsAT software the clinician was able to determine that the prescribed therapy exercises had not been effective and then able to modify the treatment plan accordingly.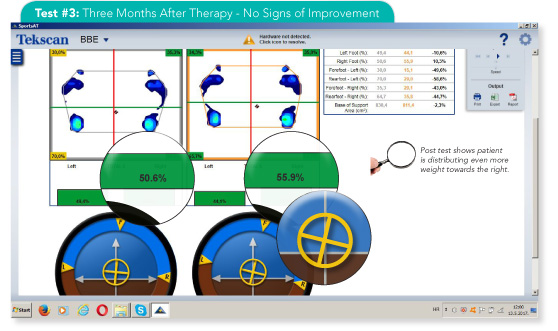 Post-rehab testing showed no signs of improvement, confirming the need for objective methods to monitor progress.
Conclusion: Patient eventually began to feel better and more stable while running. He was able to return to normal running activities.
Download the full case study to learn more!