Objective balance and concussion assessments with SportsAT.
Description
BetterBalance Essentials™ with SportsAT™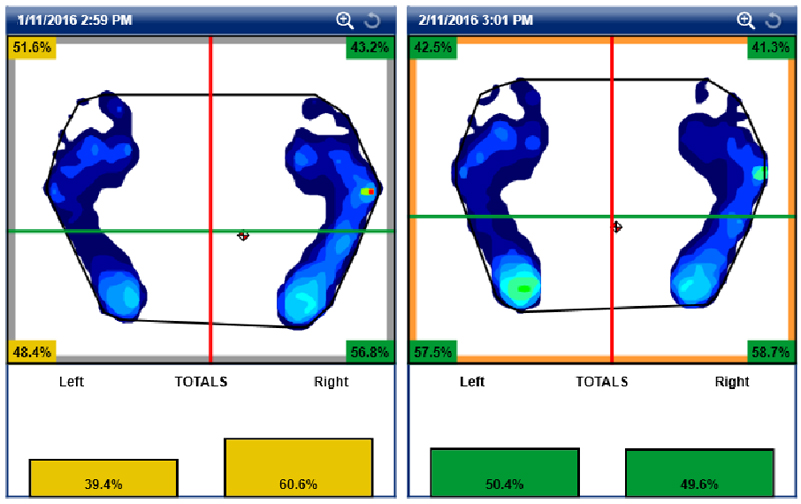 Weight distribution before and after treatment.
SportsAT™ software encompasses all of the tools needed for complete balance assessment:
Use the Balance Compass™ for balance training and screening
Evaluate chronic ankle instabilities with the time-to-boundary calculation (learn more here)
Objectively assess stability through Center of Force (CoF) movement and velocities
Easily identify asymmetries through weight distribution
Identify various origins of imbalances with the Spectral Sway analysis
Concussion Assessments with SportsAT
SportsAT software automates a set of standardized test protocols that are typically used as part of a comprehensive concussion assessment program:

Balance Error Scoring System (BESS) - developed by researchers at the University of North Carolina for objective baseline and post-concussion balance testing.
Sport Concussion Assessment Tool - 3rd edition (SCAT3™) from the Concussion in Sports Group (CIGS) to evaluate injured athletes for concussion and collect post-event neurocognitive data.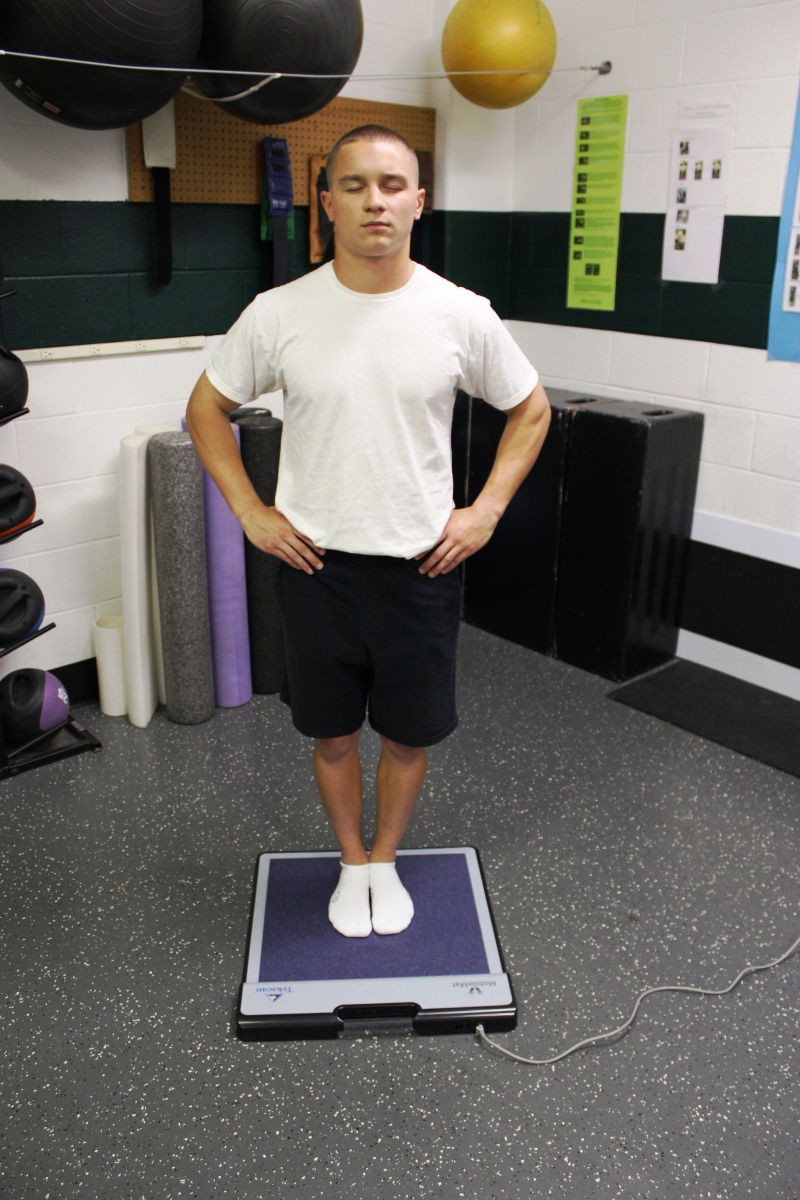 Performing one of the stances of the BESS test on the MobileMat.
This software offers:
Objective testing to ensure that athletes are always being tested using exactly the same criteria, regardless of the tester
Meaningful comparisons and trends with athlete/patient's scores to baselines
Uses can range over multiple seasons, and multiple testers
SportsAT software uses Tekscan's pressure measurement platforms to automatically calculate the scores:
MobileMat™ - Our newest mat offering, the durable platform and enclosed electronics make these mat options highly portable with no set up time.
Baseline BESS Testing with SportsAT
Researchers, Jaclyn Caccese and Thomas Kaminski, at the University of Delaware compared traditional observational BESS testing to Tekscan's automated BESS module included in the SportsAT Software.
Using 111 NCAA Division-I student-athletes, three trained observers compared observational scores to those automatically calculated using Tekscan's BESS software module for the six stances. Tekscan's automated BESS module was found to be in good agreement with scores from the traditional method. Click here (link is external) to read the abstract.
Key Features
Ability to test an unlimited number of athletes with results conveniently stored in a centralized database.
Implementation of widely accepted test protocols - a requirement of the NCAA
PDF reports of the subject's test results and history are generated on demand
Automatic scoring of balance errors during various stances of the test eliminates inter-and intra-rater variability
Easy-to-use, no clinical expertise needed to operate the system or complete the protocols
One time purchase price for an unlimited number of tests, subjects and testers with no annual subscription fees
Software
Better Balance Essentials - All the Tools Needed for Complete Balance Testing
Observe the weight distributions with pressure profiles
Bar graphs make it easy to identify asymmetries
Software automatically presents the Base of Support
The software allows pre- and post-rehabilitation comparison

Evaluate Chronic Ankle Instability (CAI) with Time-to-Boundary (TTB), no additional calculations necessary
Data is shown on bar graphs and results are summarized in a table
Tabs separate each tool by name

The Balance Compass™ is a balance training tool to rehab, monitor progress, and engage patients

Automatic calculations of the minimum TTB and the average of the minima TTB parameters without the need to export CoF data to an external software analysis package
Quantitative, objective measurement for CAI applications

Identify postural control strategies in patients with balance problems
Look at the visual, vestibular/somatosensory, and proprioceptive systems
Help diagnose what may be compromising the subject's postural control system
Consistent Testing - Athlete to Athlete, Season to Season, Team to Team
BESS Test Screenshot

Intuitive software walks you through the BESS test, step by step
Order of stances can be set or randomized by the user
Timeline indicates when the balance errors occurred

SCAT3 Test Screenshot

Intuitive software walks you through each step of the SCAT3™ interview and data collection process
No added charge for the SCAT3 protocol in SportsAT™

Sports AT SCAT3 Report

PDF report of the subject's test results are generated in the CISG approved SCAT3 format on demand
Key Software Features for Concussion Test:
Performs objective, consistent and reliable balance error scoring independent of the tester's training and experience
Simple, intuitive, easy-to-use software
No clinical expertise or special training is required to operate the software
Generates powerful, focused reports with the software
Validated by researchers at the University of Delaware
Systems
Compatible Platform
SportsAT™ Software runs on the following Tekscan pressure measurement mat:
MobileMat™ - Our newest mat offering, the durable platform and enclosed electronics make these mat options highly portable with minimal set up time.
Please refer to the platform page for more information and mat specifications.
Applications
One Software, Endless Applications
SportsAT™ Software can be used for a variety of applications including lower limb rehab exercises, asymmetries between feet, baseline concussion testing, fall risk assessments, and monitoring improvements in balance, strength & weight bearing.