Verifying Quality and Reliability of Composite Materials Used in Aircraft Design
Composite materials have been and will continue to be essential to the future of aircraft design. In general, composites materials like carbon-fiber and ceramic compounds offer benefits of being sturdy, lightweight, and resistive to high-temperature or corrosive environments. However, they often can be expensive to produce on a mass scale, which is why a sound, reliable manufacturing process is critical for ROI.
Composite manufacturing control and consistency is universal challenge that design engineers face when working with composite materials, and evaluating their structural integrity. Having a quantifiable way to test pressure distribution can go a long way in addressing both of these challenges.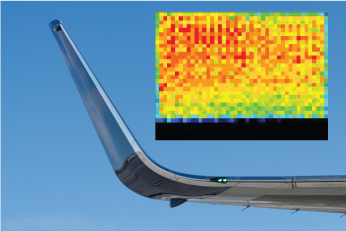 This image depicts an example pressure mapping reading from a composite molding application. In this test, there are clear areas of uneven pressure distribution, indicated by the red spots seen toward the upper-left portion of the testing area.For example, one commercial airliner designing a carbon-fiber based airplane wing wished to test the uniformity and repeatability of their autoclave molding machine. Their application required a sensing technology that could fit to the mold contours, without getting in the way of the molding compartments themselves.
High-temperature I-Scan pressure mapping systems proved to be an effective method for the design engineers to determine pressure exchanges and contacts in real-time. The ultra-thin sensors were placed between a reinforced layer of the mold, and the composite materials, which could then record these changes and identify any potential weak spots in the process.
With this pressure mapping data, the design engineers could verify a uniform autoclave molding process, or make adjustments to their tooling to address potential problem areas.
Wing design is only one of several ways pressure mapping technology can deliver insights on the composite components used on aircrafts, including:
Fuselage panels
Turbines
Tail skids
Landing gear doors
Exit hatches, lavatory, and cockpit doors

For more examples of how pressure mapping technology can benefit the transportation industry, download this free eBook!