Overview
More Objective Comprehensive Concussion Assessments
With an estimated 4-5 million concussions occurring annually nationwide Tekscan recognized the need for a reliable, validated return-to-play solution utilizing standardized protocols and tests essential in protecting the health of athletes.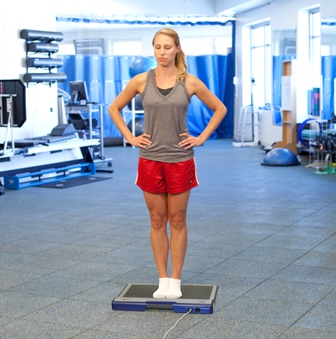 SportsAT software automatically calculates the errors committed during the BESS test. MobileMat platform is shown.
SportsAT™ Software was developed to provide quick and easy concussion analysis utilizing two industry standard protocols:
Balance Error Scoring System (BESS) developed and validated by researchers at the University of North Carolina.
Sports Concussion Assessment Tool – 3rd edition (SCAT3™) from the Concussion in Sports Group (CISG) for systematic collection of post-event neurocognitive data.
The software uses Tekcan's pressure measurement platforms to automatically calculate the score or balance errors committed during the BESS test while standing on the platform. Testers are guided through an automated version of the SCAT3 which automatically generates a report in the approved CISG format.
Athletic trainers, team physicians and treating physicians can be confident they are getting fast, reliable, accurate and consistent data. In addition, clinicians can conduct a comprehensive concussion assessment program which provides objective baseline and return-to-play concussion assessments.
Advantages
Android and iOS interface for the BESS module of the SportsAT Software enables a greater level of mobility while performing the BESS protocol
PDF reports of the subject's test results and history are generated on demand
Automatic scoring of balance errors during various stances of the test eliminates inter-and intra-rater variability
Easy-to-use, no clinical expertise is required to operate the system or to complete the protocols
One time purchase price for an unlimited number of tests, subjects, testers and seasons
No annual subscription fees
Consistent Testing – Athlete to Athlete, Season to Season, Team to Team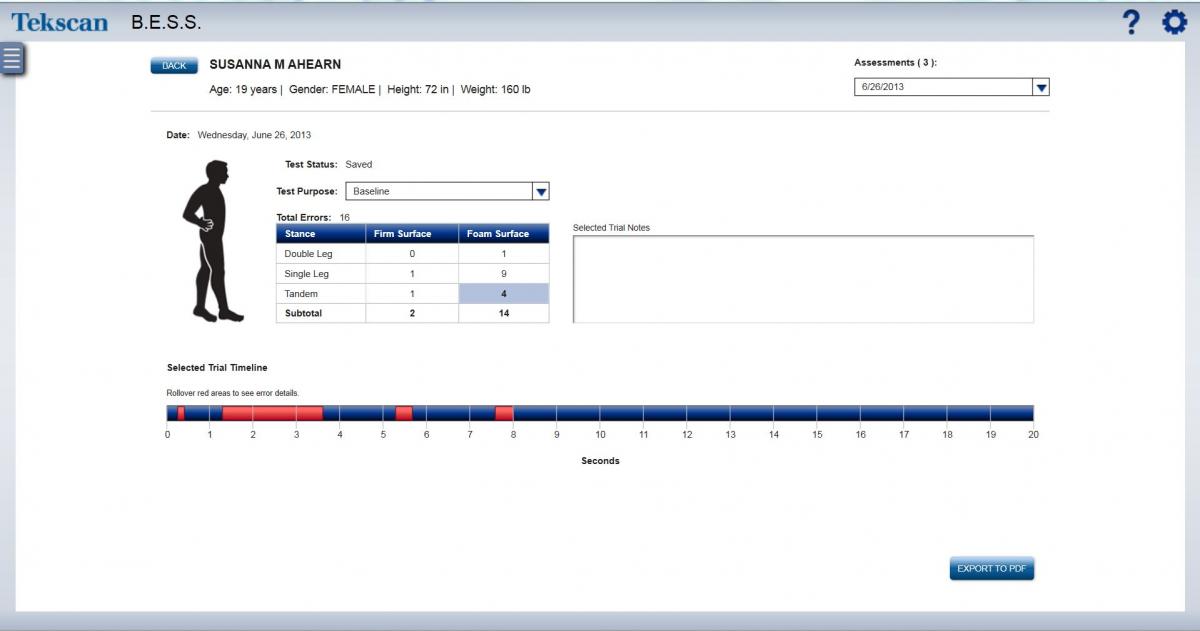 The BESS module in the SportsAT Software displays a timeline of where errors occurred.
Intuitive software walks you through the test, step by step
Order of test stances can be set or randomized by the user
Timeline indicates when the balance errors occurred
Products & Solutions
Concussion Assessment Solutions
The SportsAT™ Software works with Tekscan's pressure measurement platforms to automatically calculate the balance errors (or scores). Learn more about the different platform options that are available.
Applications
Concussion Assessment Applications
Baseline concussion testing
Return-to-play decisions
Download the concussion application flyer to learn more!
Baseline BESS Testing with SportsAT™
Researchers, Jaclyn Caccese and Thomas Kaminski, at the University of Delaware compared traditional observational BESS testing to Tekscan's automated BESS module included in the SportsAT™ Software.

Using 111 NCAA Division-I student-athletes, three trained observers compared observational scores to those automatically calculated using Tekscan's BESS software module for the six stances. Tekscan's automated BESS module was found to be in good agreement with scores from the traditional method. Click here to read the abstract.

SportsAT can be used for baseline testing and return-to-play concussion assessments.