Standard force sensor ideal for conditions with high temperature and humidity.
Description
FlexiForce™ ESS301 Sensor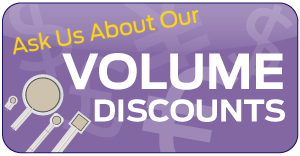 The ESS301 sensor is made from Tekscan's Enhanced Stability Series (ESS) pressure sensitive ink. This allows for better performance in a wider range of operating and storage conditions. ESS301 was developed with OEM customers in mind and designed to reached the majority of our OEM customer's test expectations.
ESS301 is available in one force range: 4.4 N (0 - 1 lb)*.
How to Adjust the Force Range:
*In order to measure forces above 4.4 N (1 lb) (up to 100 lb), apply a lower drive voltage (-0.5 V,-0.25 V, etc.) and reduce the resistance of the feedback resistor (1kΩ min.) Conversely, the sensitivity can be increased for measurement of lower forces by increasing the drive voltage or resistance of the feedback resistor. For an alternative to the recommended circuit, see the Related Electronics tab.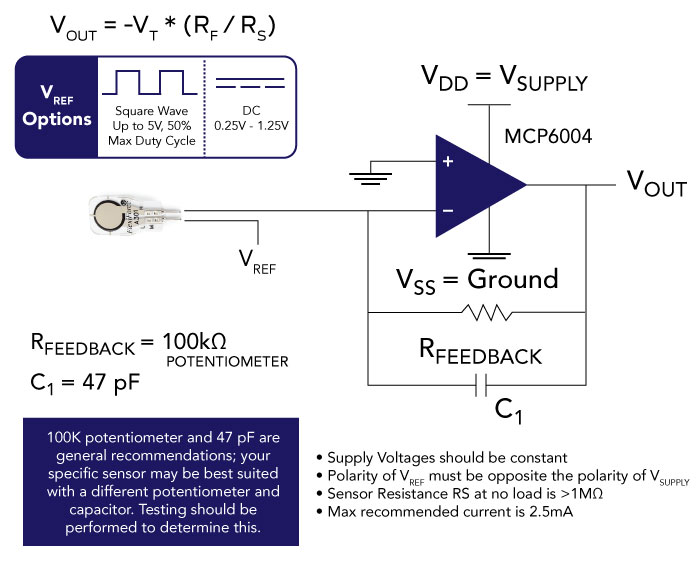 ---
Typical Performance†
Linearity (Error): < ±3% of Full Scale (Line drawn from 0 to 50% load)
Repeatability: < ±2.5% (Conditioned Sensor, 80% of Full Force Applied)
Hysteresis: < 4.5 % of Full Scale (Conditioned Sensor, 80% of Full Force Applied)
Drift: <3.8% / logarithmic time (Constant Load)
Response Time: < 5 µsec (Time required for the sensor to respond to an input force; Impact load - recorded on Oscilloscope)
Operating Temperature: -40°C - 85°C (-40°F - 185°F)
Humidity: 95%
Acceptance Criteria: ±40% sensor-to-sensor variation
†All data above was collected utilizing an Op Amp Circuit. If your application cannot allow an Op Amp Circuit, consult the FlexiForce Integration Guide, or contact a FlexiForce Applications Engineer.
Specifications

Sensing Size (Diameter/Width):
Temperature Range (High):
Notes:
Ideal for applications where high temperature and humidity are present
Sensor Output
Sensor output is a function of many variables, including interface materials. Therefore, Tekscan recommends the user calibrate each sensor for the application. The graph below is an illustration of how a sensor can be used to measure varying force ranges by changing the feedback resistor (the graph below should not be used as a calibration chart).
Test Conditions: Input Voltage- 0.45V; Load Applied - 1lb; Measured Current- 79uA