Wafer Polishing Pressure Measurement
Wafer or Chemical Mechanical Polishing (CMP) requires that an even surface is achieved or subsequent manufacturing steps will be adversely affected, costing your company money.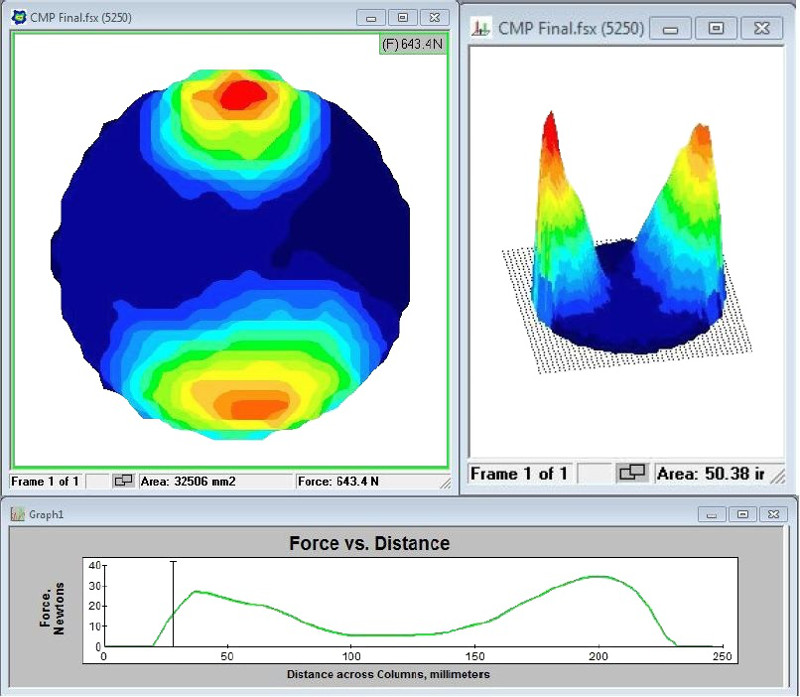 Wafer pressure profile: non-uniform material removed is likely due to an uneven pressure on the wafer from the polishing head- higher pressure applied on the two lobes of the polishing head.
The I-Scan™ pressure mapping system provides instantaneous insight into the pressures applied by a polishing head on a wafer during the polishing process. If uneven pressures exist, the I-Scan will display them in colorful 2D and 3D images. Machine adjustments can then be made and new measurements taken to ensure even pressure.
The patented thin sensors easily fit in this application and minimize environmental disturbance thus measuring the true pressure pattern. Sensors are available in different shapes, are reusable, and provide accurate pressure readings. With the help of our highly qualified sales and engineering support team, each system may be configured to meet your specific needs.
Wafer Polishing Pressure Measurement Applications
Identify uneven polish, worn parts, and low pressures
Before and after adjustment comparison
Machine to machine comparison
Reliability and validation testing
Benefits of Pressure Mapping
Improves machine set-up:
Save time & money
Minimize product waste
Identify low yield machines
Increase manufacturing yield