Challenge:
Tire manufacturers need to understand the changes of a tire under various loads and applications to improve handling and response. Additionally, knowing the void ratio of the tire is critical for understanding the water displacement potential of the design.
Solution:
The TireScan™ System is a unique tool used to capture static or dynamic tire footprint pressure patterns using a tactile pressure sensor. The system's tailored graphing and image analysis software enables quantitative and qualitative evaluation of tire behavior. Able to support a wide variety of tire sizes, the TireScan system is a portable, durable, and reusable system that can accurately measure tire footprints. The interface pressure data offers vital information of tread design and contact pattern to enhance product design, manufacturing, quality, and research.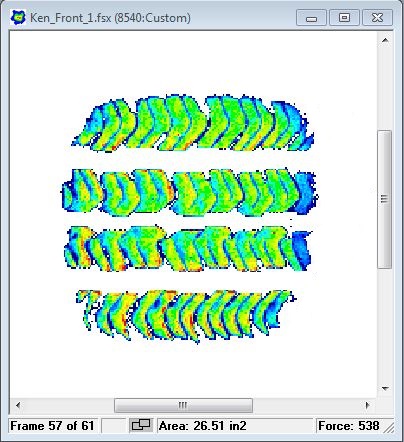 Tire Footprint pressure output during a dynamic roll test over the TireScan CrossDrive System.
Tire Footprint Measurement Applications
Tire footprint pressure pattern evaluation
Analyze various tire compounds and tread designs
Assess suspension and camber
Sipe and tread block design and testing
Road surface predictive wear studies
Tire mold adjustment
Race vehicle "set-up"
Manufacturing quality assurance
Competitive benchmarking
See how Pressure Mapping Technology can capture actionable tire footprint data to improve tire designs: