Force Sensors for Medical Devices
The thin, lightweight design of the FlexiForce™ sensor makes it the ideal force measurement solution for medical devices. The sensor provides quantitative data that enhances the tool's capabilities. This data allows surgeons and doctors to eliminate guesswork, improve patient outcomes, and increase consistency.
Drug Delivery Devices
Consumer heath devices
Surgical Tools
Orthopedics
Robotic Surgery
Therapeutic Devices
Featured Video: Make Therapeutic & Drug Delivery Devices Smarter with FlexiForce Sensors
Most therapeutic & drug delivery devices in some way require a change in force to function. Embedding FlexiForce Touch Sensors can help improve the usability of these devices, while keeping the device compact and power efficient. Check out this video to learn more:
FlexiForce™ Custom Force Sensors
Choosing FlexiForce for your embedded force sensor application carries a variety of advantages over the competition, including:
Superior linearity & accuracy (±3%)
Expert technical guidance in custom solutions
Wider range of forces
Sensor output is not a function of loading area
High temperature versions (up to 400°F) available
ISO 13485: 2016 Registered
Custom sensors are 100% tested to ensure they meet agreed-upon specifications.
We accept custom jobs with quantities as low as 1000 to as high as millions of sensors.
To learn more about FlexiForce sensors and our custom capabilities, visit our Force Sensor Page
Our Expertise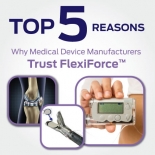 Our experienced engineering team works closely with you throughout each stage of the design process to ensure the best sensor design for your application. For customers who need custom application software to complement their sensors, we team up with trusted partners to combine our expertise and develop complete specialized solutions.Read the Top 5 Reasons Medical Device Manufacturers Trust FlexiForce.
Custom Force Sensors
The unique construction and ink characteristics of FlexiForce™ sensors enable Tekscan to create custom-designed force sensors to meet your specific needs. Are you looking to integrate a force sensor into your medical device or application?
Let's discuss! Consult an Engineer
FlexiForce™ Standard Sensors
FlexiForce force sensors can measure force between almost any two surfaces and are durable enough to stand up to most environments. Our sensors are available off-the-shelf for prototyping or can be customized to meet the specific needs of your product design and application requirements. The sensors are designed for use with your own electronics, multimeter, or our Quickstart Board.

For a full view and comparison of sensor products, please visit our Force Sensor Product Table.
FlexiForce Touch Sensors Embedded into Drug Delivery & Therapeutic Devices Help Make Treatment Easy
Download our Ebook: "Designing User-Friendly, Portable, Force-Sensitive Medical Devices" to learn how FlexiForce™ touch sensors offer greater flexibility than other force-sensing alternatives to capture these changes in force. It will also provide a mix of real-world and conceptual examples of how FlexiForce can better equip these devices to satisfy patient needs.