Optimize Medical Device Functionality
Challenge
Manufacturers and researchers continuously strive to validate or improve efficiency and accuracy of medical devices and precision tools. Whether evaluating the effectiveness of a surgical apparatus or ensuring the fit of a health-monitoring device, contact pressure distribution plays a critical role. Interface pressure data can be instrumental to the safety and accuracy of various medical procedures.
Solution
The I-Scan™ pressure mapping system is used by engineers and researchers throughout the medical device industry to help develop innovative tools and assess product quality, ergonomics, and even manufacturing equipment. I-Scan is a powerful tool that accurately measures and analyzes interface pressure between two surfaces. The system is comprised of of a thin and flexible sensor, data acquisition electronics, and analysis software.
Laparoscopic Surgical Gripper Tool
I-Scan can be used to test surgical gripping devices to evaluate hinge design. The gripper clamps down on the sensor, while software displays the pressure distribution in real-time. Various hinge designs can be tested and compared to achieve optimal gripping force.
Validate Prosthetics
Cardiac Prosthetic Attachment

I-Scan provides an efficient way to test the adhesion
necessary to repair (left images) or replace (right
images) cardiac valves. The data can be used to
optimize device performance, as well as the surgical
process.

Human Knee Joint Implant

This test established that a knee joint implant is working
properly, by revealing pressure uniformity between the
medial and lateral compartments.
Pinpoint Failure Locations
Surgical Tourniquet Cuff (arm)

An uneven pressure distribution displays when testing
the functionality of a tourniquet cuff.

Peristaltic Insulin Pump

To determine if the proper amount of insulin is being
delivered, a sensor is placed between the roller and
plastic tube of an insulin pump. The left image shows
the pressure profile of the roller at one point during
a stroke; the right image shows an entire stroke. The
pressure images reveal an uneven loading on the tube
throughout the stroke.
---
Tekscan pressure mapping systems provide unique data and insight you can't get anywhere else:
Medical Device Pressure Measurement Applications
Testing & design validation
R&D for new product design
Comfort/fit evaluation
Benefits with Pressure Mapping
Improve design
Optimize product performance
Ensure safety
Improve ergonomics
---
Intuitive Software Analysis Tools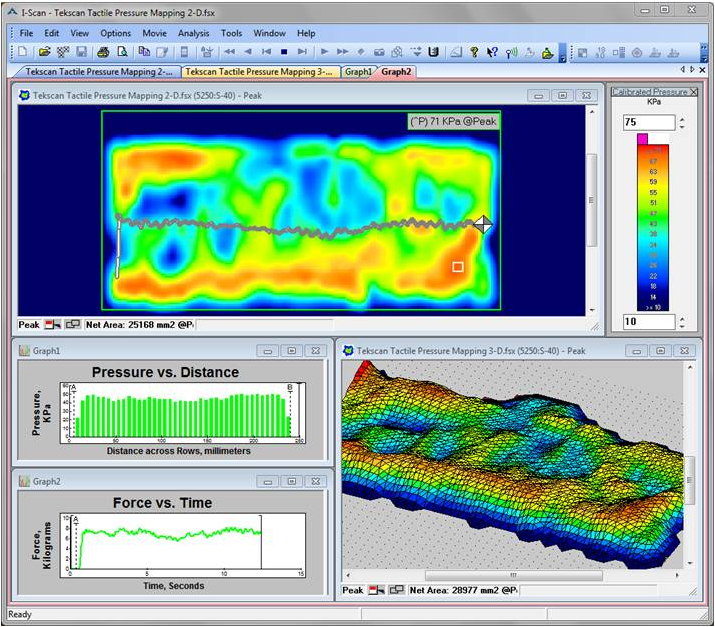 I-Scan's comprehensive software displays pressure data in real time with the ability to record, save, and play back recording files (.fsx), or export as an ASCII text file (.csv) for use with other programs.
Real-time display of pressure sensor data in 2D & 3D
Graphing & data analysis (pressure, force, & area)
View data as an integrated Microsoft Excel table
View and compare multiple test results simultaneously
Display peak pressures & center of force
Export data to ASCII or AVI files
Sensors are available in different shapes, are reusable, and provide accurate pressure readings. With the help of our Tekscan highly qualified sales and engineering support team, each system can be configured to meet your specific needs.