Robotic Force Sensors
Force sensors enhance the design of robotic applications by enabling advanced control technology. Force sensors provide a robot with haptic feedback, which allows for better overall performance. This performance includes verifying grip forces, ensuring proper balance, and providing tactile feedback to an external source.
Force Sensors Enable Accurate Handling of Delicate Objects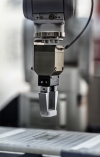 Pick-and-place robots can work at a consistent pace around the clock, and force sensors embedded into the grippers can tell the robot when an item has been grasped and when it has been released. Thin, flexible force sensors like FlexiForce™ add another layer of data by providing haptic feedback which is critical in the handline of delicate objects needing precise and variable contact pressure, from semiconductors to ripe berries. This feedback tells the end effector how much or how little force is needed to grasp the object without damaging it.
Featured Video: FlexiForce™ Sensors Integrated into Nao Robot
FlexiForce sensors are embedded into the bottom of the Nao Robot's feet to ensure proper balance.
FlexiForce Custom Force Sensors
Choosing FlexiForce for your embedded force sensor application carries a variety of advantages over the competition, including:
Superior linearity & accuracy (±3%)
Expert technical guidance in custom solutions
Wider range of forces
Sensor output is not a function of loading area
High temperature versions (up to 400°F) available
Custom sensors are 100% tested to ensure they meet agreed-upon specifications
We accept custom jobs with quantities as low as 1000 to as high as millions of sensors
To learn more about FlexiForce sensors and our custom capabilities, visit our Force Sensor Page
Our Expertise
Our experienced engineering team works closely with you throughout each stage of the design process to ensure the best sensor design for your application. For customers who need custom application software to complement their sensors, we team up with trusted partners to combine our expertise and develop complete specialized solutions. Tekscan tactile sensors designs range in size, shape, and specifications from simple force measurements to full tactile pressure matrix sensors.
Custom Force Sensors
The unique construction and ink characteristics of FlexiForce™ sensors enable Tekscan to create custom-designed force sensors to meet your specific needs. Are you looking to integrate a force sensor into your medical device or application?
Let's discuss! Consult an Engineer
FlexiForce™ Standard Sensors
FlexiForce force sensors can measure force between almost any two surfaces and are durable enough to stand up to most environments. Our sensors are available off-the-shelf for prototyping or can be customized to meet the specific needs of your product design and application requirements. The sensors are designed for use with your own electronics, multimeter, or our Quickstart Board.

For a full view and comparison of sensor products, please visit our Force Sensor Product Table.