Overview
Enhance product design, manufacturing, quality, and research
Tekscan is the world's leading innovator and manufacturer of tactile pressure and force measurement solutions for test and measurement. From force measurement to pressure mapping, our sensing solutions provide unique data and insight to validate your technology, reduce costs, and enhance product design and quality for optimal results. Our passion for sensor technology, investment in research, and engineering expertise enable us to meet your application challenge.
| | |
| --- | --- |
| Tekscan's pressure mapping systems provide data you can't get anywhere else by accurately measuring and analyzing interface pressure between two surfaces. | Tekscan's FlexiForce™ sensors economically measure load and force between two surfaces utilizing a minimally invasive form factor. |
---
Pressure Measurement Systems
Our complete Pressure Mapping systems consist of sensors, data acquisition electronics, and software which runs directly on your laptop or desktop PC. With various options for sensor models and software add-ons, we provide solutions to upgrade your system as your needs evolve.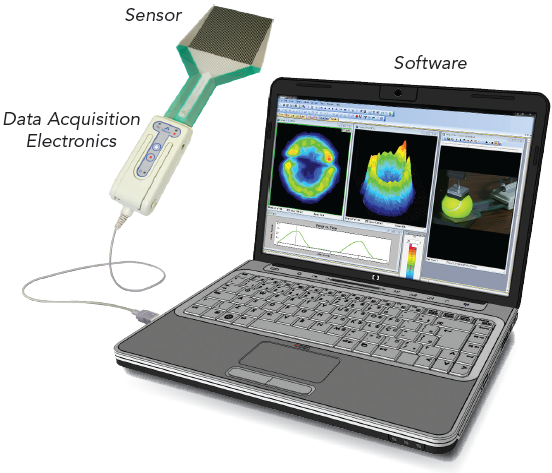 Check out this five-part video series on how Pressure Mapping Technology can be come a Design Engineer's Magnifying Glass:
---
Force Sensing Solutions for Test & Measurement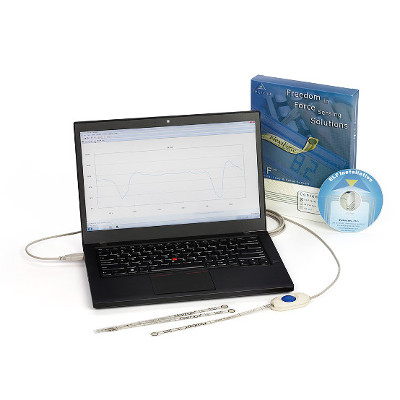 FlexiForce ELF SystemFlexiForce sensors and complete measurement systems are used to measure, analyze, and verify products and applications. Our force measurement solutions are used throughout various industries including medical, design services, electronic components, manufacturing, and academics. The FlexiForce sensor is thin, flexible, and accurate making it an ideal, user-friendly tool for engineers, researchers, or scholars looking to obtain force feedback data.
Learn more about force measurement.
---
Read how others have benefited from using a Tekscan pressure measurement system:
Tekscan came in for a demonstration, and within five minutes we were watching a live output from our system and our jaws hit the floor. It literally made the pressure sensitive film we had been using look like bear skins and knives. It was that much of a quantum leap improvement. The Tekscan system paid for itself in the first five minutes. We got almost priceless information from it.

- Dave Otto, Former Senior Research Engineer, Dupont
I encountered Tekscan and had the feeling of an engineer's dream come true. Working with granular materials and soil-structure interaction, one encounters problems with large stress variations. My observations in a journal paper published by ASTM in 1997 continue to hold: The ability of the grid-based tactile pressure sensor's system to provide real-time normal stress distribution over an area is unmatched by any other known technique. This ability provides us with an insight into the behavior and mechanisms of geomaterials that could not have been imagined previously.

- Samuel G. Paikowsky, ScD Professor, Geotechnical Engineering Research Lab, University of Massachusetts
"TMMK has been using the I-Scan system for the last two years, resulting in over 3,000 push/pull tests. The I-Scan provides our Safety and Engineering team with an accurate measuring device to record push/pull forces on a majority of our parts. The Tekscan system is easy to use and very dependable and has helped to improve our ergonomic initiative."

- John Whitaker, Assembly Safety Specialist, Toyota Motor Manufacturing, Kentucky
Products & Solutions
Pressure Mapping
General Purpose System
With this comprehensive pressure mapping solution, a system can be tailor-made to support basic to complex applications.
Application-Specific Systems
Systems with specially designed sensors, electronics, and software, better equipped to handle the requirements of these specific applications.
---
Force Sensing
Economical Load and Force Measurement Systems
Tekscan's ELF™ force and load measurement system matches the market's need for an inexpensive load and force measurement system with Tekscan's ability to deliver innovative load and force measurement solutions. The following systems are also available in multi-handle and high-speed versions.
FlexiForce™ Standard Sensors
FlexiForce™ force sensors can measure force between almost any two surfaces and are durable enough to stand up to most environments. Our sensors are available off-the-shelf for prototyping or can be customized to meet the specific needs of your product design and application requirements.

For a full view and comparison of sensor products, please visit our Force Sensor Product Table.
Applications
Pressure Mapping
Here are some examples of the many industries and applications utilizing Tekscan's pressure mapping technology.
Force Measurement
FlexiForce™ sensors and systems are used in various test and measurement applications and industries. Please see below for a few samples.
Free eBook: Pressure Mapping as a Research & Development Tool