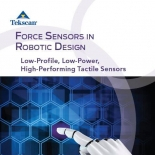 Tuesday, September 20, 2016
Whitepaper Demonstrates Power of Tactile Sensors in Robotic Design
As demand for robotic devices increases, so do the technology requirements.
To meet companies' sustainability goals and lifecycle requirements, devices need to consume minimal power.
To be marketable, they need to be light-weight and cost-effective.
This free whitepaper, "Force Sensors in Robotic Design" outlines robotic applications that benefit from thin, flexible, low-power tactile force sensors. It also provides a look at the technology behind FlexiForce™ sensors, one of the most easily-integrated and effective tactile force sensors on the market.