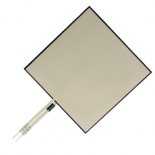 Tuesday, February 28, 2017
Tekscan Offers Design Engineers New Prototyping Option for Embedded Force Sensing
New Square FlexiForce™ Sensor Rounds Out Tekscan's Off-the-Shelf Force Sensor Catalog
Tekscan, Inc is pleased to announce its newest off-the-shelf single-element force sensor. The A502, Tekscan's largest off-the-shelf FlexiForce™ sensor to date, offers a 50.8 x 50.8 mm (2 x 2 in) square sensing area, affording design engineers even more options for testing and prototyping. The A502 sensor is available in a 0-222 N (0-50 lb) range, specified with Tekscan electronics. This model is linear through a much lower range of 0-22 N (0-5 lb), and is capable of measuring loads up to 44,482 N (10,000 lb). In keeping with the standard FlexiForce sensor profile, the A502 sensor is paper-thin at just 0.2 mm (0.008 in) thickness.
Mark Lowe, Vice-President of Sensors at Tekscan, explains,
OEM design engineers face a number of challenges in specifying components, but designing in sensors shouldn't be one of them. Our goal at Tekscan is to ease the prototyping process for design engineers by offering a variety of low-cost, off-the-shelf sensors in different shapes, sizes, and force ranges. We 100% test our sensors so customers can feel confident that the sensor performance they expect is the sensor performance they will achieve.
FlexiForce sensors can:
Detect and measure a relative change in force or applied load
Detect and measure the rate of change in force
Identify force thresholds and trigger appropriate action
Detect contact and/or touch
Contact us today to discuss your application or to place an order.