What Matters to Design Engineers? (Part 2-of-2): In-House Manufacturing
This is the second of a two-part Tactile Touchpoints blog series summarizing the findings from a survey submitted to 373 members of the global design engineering community. The goal of the survey was to better understand what was most important to design engineers when selecting a supplier of embedded components. Read Part 1 here.
Question: Do you prefer to work suppliers with in-house manufacturing capabilities?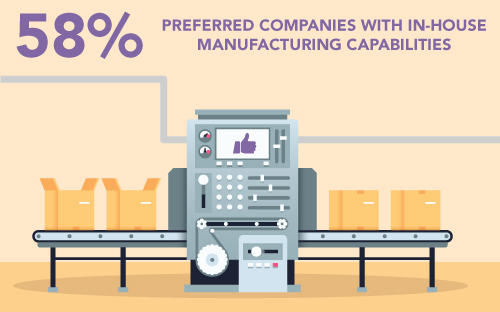 There are many benefits of purchasing your embedded components directly from the manufacturer. For one, having that direct line of communication to the manufacturer ensures that your selection of embedded components will perform to your exact needs. This is especially important when your application requires a unique custom sensing solution.
Also, design engineers should take note of manufacturers with on-site applications engineers, who have intimate knowledge of the technology, and can put you on a smoother path through the design-in process.
"The instrument design [of our custom FlexiForce sensor] required our working closely with Tekscan. The design needed a much smaller sensing area than the stand sensor provides, so it was necessary to ensure such a small area could, in fact, detect force … An eight-week turnaround on the custom sensor, and good advice from the manufacturer helped smooth our product development processes."


– Thomas Eisner, design engineer with Cervitrol
Another value to working directly with the manufacturer is that they are often transparent about their quality control and testing procedures. At Tekscan, all FlexiForce™ touch sensors are 100% factory tested, which is crucial to embedded applications that cannot tolerate failures. All of our sensors are manufactured at our RoHS-compliant, ISO 9001-compliant, and ISO 13485-certified facility.
While some technology providers find that outsourcing their technology allows them to provide the lowest-cost component, we at Tekscan place heavy emphasis on maintaining tight controls at our U.S.-based manufacturing facility to ensure the best quality component.
For more success stories of design engineers working directly with Tekscan, download the "Force Sensors for Design" eBook now!