Why Should You Watch?
Every mouth, every bite is different. That's the beauty of T-Scan™ technology - capturing the unique, digital rendering of what's happening to the teeth when they come together in the mouth.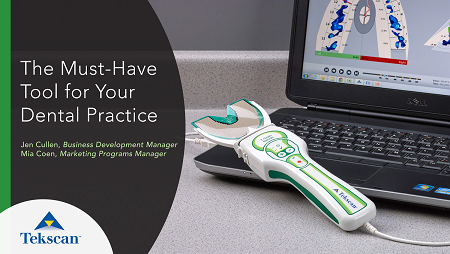 T-Scan Dentists have reported tremendous growth and improved treatment outcomes simply from owning and using the tool. We have compiled their testimonies to bring you insight as to why T-Scan is a must-have tool for your practice.
In this webinar Jen Cullen, Business Development Manager, and Mia Coen, Marketing Programs Manager, cover all the ways in which dentists can benefit from this return on investment.
Based off a three-part eBook series, you will leave the webinar with these key learnings:
Overview of what T-Scan does
Review of numbers: Dentists share real ROI stories about income saved/generated
Where would the tool fit into your everyday dentistry
How you would implement T-Scan clinically
A path for integrating T-Scan into your practice