Tekscan Custom Solutions
Tekscan has an extensive pressure and force measurement product portfolio. We started manufacturing sensors and the associated software and hardware in 1987 and since then each year we add new products and enhance our existing product line.
If you have a requirement and the product does not exist today, we welcome a discussion about a potential custom solution. Our team of experts relishes the opportunity to design a solution that meets your needs. The team is fully staffed with experts in mechanical, electrical, and applications engineers as well as chemists and materials scientists. This enables us to continually innovate, design and build unique products.
Tekscan, Inc. is committed to quality. Sensor design, manufacturing, and production happen at our company-owned ISO 9001 & 13485-certified facility in South Boston, MA. All of our sensors are also ROHS compliant and 100% tested to ensure they meet the agreed upon specifications.
Product and Application Breadth
From precise medical devices to commercial kiosks, our custom sensors and systems are in over 30 different industries and used by major Fortune 500 companies all over the world! Just check out our applications page for some examples.
Design Process
Our team made up of mechanical, electrical, and application engineers works closely with you throughout each stage of the design process to ensure the best sensor design for your application. For customers who need custom application software to complement their sensors, we team up with trusted partners to combine our expertise and develop complete specialized solutions. Engaging with our team saves you time, money, and resources. This design collaboration results in a lower cost, shorter design cycle, and ultimately, a successful product.
Sensor Manufacturing Capabilities
Size: Sensors have been manufactured with active areas as small as 13 mm and as large as 3 mm
Sensing elements: with up to 250,000 sensing points.
Density: high as 248 sensing elements/cm2 (1600 sensing elements/in2)
Pressure range: up to 25,000 psi or 1,700 bar
High Temperature sensors are available that can withstand operating temperatures up to 200°C (400°F)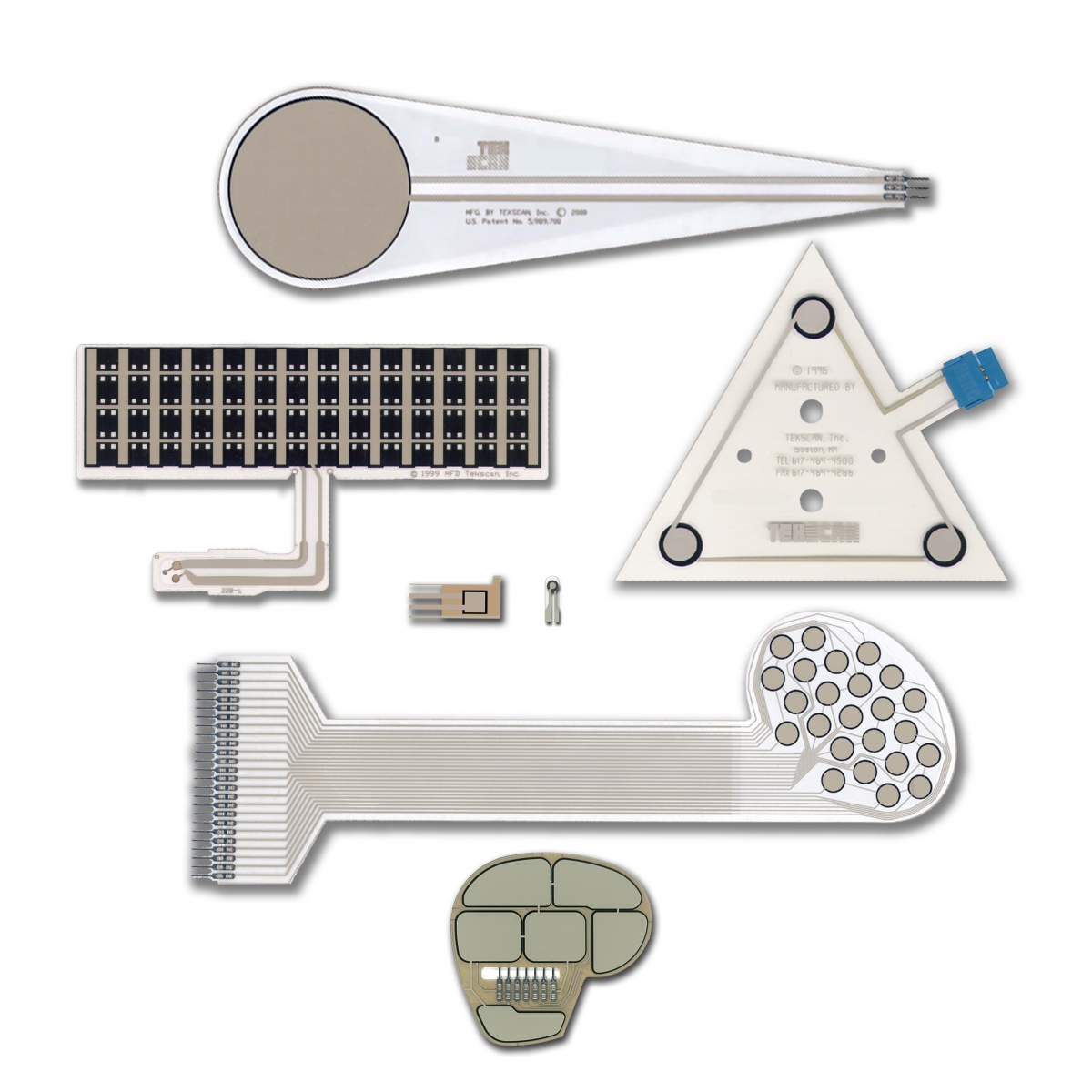 With its paper-thin construction, flexibility, and force sensing ability, the FlexiForce™ force sensing resistor can measure force between almost any two surfaces, and is durable enough to stand up to most environments. Our sensors are available in three ink technologies - standard, enhanced, and high temperature. These ink formulas are design to meet your various application and product needs. The unique construction and ink characteristics enable Tekscan to create custom-designed force sensing resistor sensors to meet your specific OEM needs. We have manufactured force sensors as small as 13 mm x 4.2 mm with an active area of 1.86 mm and as large as 3.06 mm.
FlexiForce sensors are ideal for OEM products due to our ability to customize:
Geometry - sensors can be designed in a variety of shapes and sizes to meet your application and product needs.
Ink technology - we offer three pressure-sensitive ink variations to meet your application and product needs: standard, enhanced, and high temperature (200° C/400°F).
Integration support - our team of mechanical, electrical, and application engineers are here to ensure a successful product integration.
Get started by proving your concept with the OEM Development Kit. From the very beginning, our engineering team will be here to support you, and will help you select or design the sensor that best fits your application.

Customized thin pressure mapping sensors can be designed and manufactured to fit into unique applications. Sensing area dimensions and pressure ranges can be specified for mechanical compatibility. Additionally, data acquisition and analysis software can be customized for user specifications. Customized sensors and software can be used for:
Streamlining QC process in manufacturing
Machine alignment tools
Marketing tools demonstrating pressure interface with products (seats, beds, sporting equipment)
However you want to use pressure mapping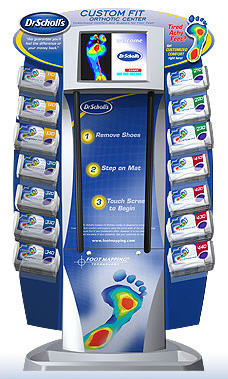 Dr. Scholl's Custom Fit Orthotic Kiosk is an example of a custom solutions from Tekscan.
Standard and customized solutions built on our foot mapping technology can help you drive success in your retail outlets. Our pressure platforms quickly capture static and dynamic measurements for foot function assessments and more. Personalize the sensor platforms to match your branding and include your logo. Custom software specific to your application is available too. Learn more here.