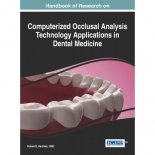 Tuesday, February 3, 2015
Textbook Featuring T-Scan Clinical Applications Released by Dental Occlusion Thought Leaders
- Updated July 1, 2019 -
On July 1, 2019, the Handbook of Research on Clinical Applications of Computerized Occlusal Analysis in Dental Medicine, edited by Dr. Robert Kerstein, DMD, was published and is available for purchase from the IGI Global webstore. This handbook builds upon the 2015 best-selling publication, The Handbook of Reearch on Computerized Occlusal Analysis Technology Applications in Dental Medicine, explained in further detail below.
For more information on the latest book release from Dr. Kerstein,
or
Enter the Coupon Code "TSCAN40" at checkout to earn 40% off of your purchase.
---
Original Post: February 3, 2015
Authorities on Occlusion Release Book Featuring T-Scan™ Clinical Applications
Clinicians from around the world contribute
Dr. Robert Kerstein, a leading author and researcher in the field of Computerized Occlusal Analysis - along with 17 international contributors - has published The Handbook of Research on Computerized Occlusal Analysis Technology Applications in Dental Medicine. Dr. Kerstein compiled case studies from practicing dentists and clinicians detailing the value of using T-Scan™ technology in clinical applications that involve the diagnosis and treatment of dental conditions that are impacted by occlusal disorders. T-Scan, an instrument developed by Tekscan, Inc., is dentistry's only digital occlusal analysis system that reveals the timing of force on the individual teeth and the occlusal stability of the overall bite.
Dr. Kerstein notes, "Through the dissemination of the information contained within the book, the clinical practice standards in Dental Occlusion will be elevated from the subjective to the objective. T-Scan's relative occlusal force and timing measurement capabilities have been shown in studies to definitively improve occlusal design end-result precision, aid in rapid patient adaptation to occlusal changes, and resolve TMD symptoms quickly and permanently." Case studies in the book also illustrate the benefits of occlusal technologies that complement the T-Scan system.
A few case studies from the book include Dr. Teresa Sierpińska of Bialystok, Poland, who couples the T-Scan III with the Bio/EMG synchronization module to assist in the diagnosis and treatment of advanced tooth wear caused by imbalanced occlusal contacts and hyperactive muscles. In her orthodontics practice, Dr. Julia Cohen-Levy uses the T-Scan's force distribution indicators to optimize post-treatment occlusion. In South Korea, Dr. Jinhwan Kim uses the T-Scan to measure occlusal force and contact timing to ensure reconstructed teeth function properly.
Dr. Curtis Westersund of Calgary, Canada, notes that "this book helps bring answers, procedures, and protocols to all three of these aspects of owning a dental practice. There are dentists who are actually doing the procedures in the book daily and with skill and experience that can be tapped into and transferred to any dental office worldwide."
The book is published by IGI Global, a leading international academic publisher, offering content in both print and electronic formats to researchers, librarians, and universities.
Kerstein is a global expert on the use and application of the T-Scan, and he has published over 40 articles on the topic in relation to dentistry and occlusal analysis. He received his D.M.D. degree in 1983, and his Prosthodontic certificate in 1985; both from Tufts University School of Dental Medicine.
Full list of contributors: Robert Anselmi, McGill University, Canada; Ray Becker, DDS, Maryland, USA; Dr. Nicolas Cohen, DDS, Paris, France; Julia Cohen-Levy, DDS, MS, Ph. D, Paris France; Tom Coleman, DMD, Vermont, USA; John Droter, DDS, The Pankey Institute, USA; Dr. Jinhwan Kim, Seoul, South Korea; Dr. Sushil Koirala, BDS, Kathmandu, Nepal; Dr. Bernd Koos, University Medical Center Schleswig-Holstein, Germany; Dr. Sarah Qadeer, Thammasat University, Thailand; John Radke, MS. Bioresearch Associates, USA; Dr. Teresa Sierpińska, Bialystok, Poland; Roger Solow, DMD, The Pankey Institute, USA; Christopher J. Stevens, DDS, Wisconsin, USA; Robert Supple, DMD, New Mexico, USA; Curtis Westersund, DDS, Calgary, Canada; Nick Yiannios, DDS, Missouri, USA