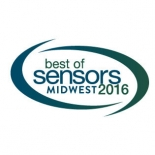 Tekscan's NPAT Takes Home "Best of Sensors Midwest 2016" Honors
Tekscan's Nip Pressure Alignment Tool™ (NPAT™) was awarded Bronze at the "Best of Sensors Midwest 2016", which took place on Sept. 27-28 in Rosemont, IL. NPAT was recognized among several new sensor product submissions for its ability to capture nip footprints and relative pressure distribution between nip rolls in real time. These features help ensure machine set-up and proper roll alignment to result in better printing processes and eliminate guesswork by the operator.
According to Camilo Aladro, Pressure Mapping Product Manager with Tekscan, the recognition is a tribute to the hard work that went into developing the NPAT system. "The NPAT is a powerful tool that provides real-time verifiable nip pressure and contact data to improve process and product quality, increase yield and reduce waste," says Aladro. "Any time a company has to suspend production to address misalignments in their nip system, their bottom line suffers. The NPAT helps to streamline nip machine configuration and keep operations running smoothly."
The NPAT's performance has been validated by several customers and integrates well within most factory maintenance programs, says Aladro.
The award comes on the heels of the NPAT 5705 system release, which was introduced in the Fall of 2016 as an optimal sensor design for smaller nip rolls commonly used in the film and converting industry. "The 5705 is a prime example of how we took customer input, presented it to our R&D team and developed a proven solution that addressed their specific demands," says Aladro.
Our experience and drive to innovate are unique assets we provide to our customers. We stand ready to take on any challenge!
Watch this 2 minute Video for an Overview of the Nip Pressure Alignment Tool:
To learn more about the NPAT system, click below: