Overview
Easily Measure Nip Roll Uniformity & Pressure Distribution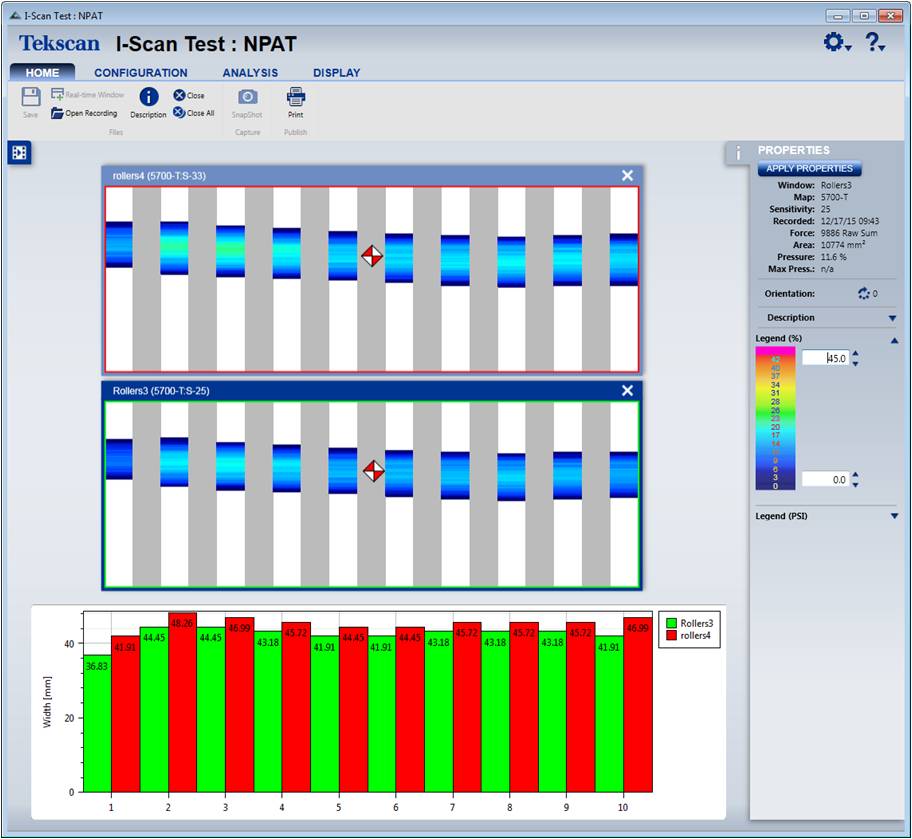 NPAT software output
Tekscan systems can measure force and pressure distribution variations between nip rolls. Software displays data & imagery of the nip pressure profile to help verify uniformity along the length of the roll. Real time display of the data allows the user to see the impact of machine adjustments, for a fast and accurate set up. Easily identify:
Crowns
Roll deflections
Misalignment
Diameter variations
The result is less downtime and product waste, leading to better yields and improved cost.
See How the Nip Pressure Alignment Tool Captures Actionable Nip Roll Uniformity Data in Minutes:
Products & Solutions
Nip Pressure Measurement Systems
Tekscan offers two unique solutions for nip roll applications:
There is no "one-product-fits-all" approach when it comes to pressure mapping systems, especially in the case of nip pressure alignment. The choice between an I-Scan or an NPAT is determined based on a set of criteria that is unique to machine. Follow the graphic below to determine which system best meets your operation's needs.
Primary Use
I-Scan is primarily a test & measurment system used to capture in-depth, quantifiable interface pressure data. NPAT is a simple, portable maintenance tool with a streamlined software program to deliver comparative nip alignment data to the operator on-the-fly.
Data Needed
I-Scan is used to capture end-to-end nip contact pressure, which is not necessarily needed for all types of nip operations. NPAT provides static snapshots of nip width and relative force to verify uniform pressure and nip contact.
Nip Roll Size
Using I-Scan on larger rolls can be cumbersome and costly. Multiple sensors scanning electronic handles would likely be needed for the I-Scan to analyze a surface area larger than 18 inches. NPAT was developed as an economical tool for use in large and custom nip roll applications.
Operating Temperature
I-Scan sensors are available in high-temperature formats, which makes them ideal for laminating or applications involving plastics. Currently, NPAT can only be used in applications under 35°C (95°F).
Learn more by visiting the system pages below.
Applications
Applications
eBook: Packaging: Gaining Insight Into Your Process With Pressure Mapping