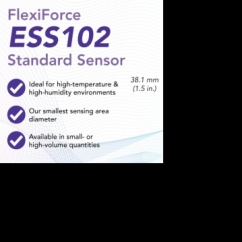 Introducing ESS102 - Our Newest Standard FlexiForce Sensor
We are pleased to introduce the newest model in our growing catalog of FlexiForce Standard Force Sensors: ESS102.
ESS102 is a high-demand form factor featuring our smallest sensing area diameter of 3.8mm (0.15 in.) matched with our Enhanced Stability Series (ESS) pressure-sensitive ink formulation. This allows the sensor to operate in high-temperature (up to 85°C) and high-humidity (relative humidity of 95%) environments.
Whether you're considering FlexiForce sensors for your design, or simply interested in giving the new sensor a try on your testing fixture, the ESS102 is available now on the Tekscan Online Store in 4- and 8-packs. Volume discounts (greater than 100 sensors) are available upon request. Contact us for a quote.