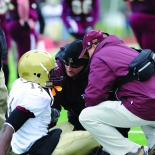 Tuesday, September 23, 2014
Concussion Assessments Are Now Easier with SportsAT Software
Good News for Athletic Trainers & Team Physicians: Baseline & Return-to-Play Concussion Assessments Now Made Easier
Tekscan announces the release of its SportsAT™ Software, the first and only objective computerized testing for balance assessments. SportsAT includes a set of standardized test protocols that are typically used as part of a comprehensive concussion assessment program:
Balance Error Scoring System (BESS) developed and validated by researchers at the University of North Carolina provides for objective baseline and return-to-play balance assessments.
Sports Concussion Assessment Tool - 3rd Edition (SCAT 3™) from the Concussion in Sports Group (CISG) provides for systematic collection of post-event neurocognitive data.
Using Tekscan's pressure measurement mats, scores are automatically calculated. Test an unlimited number of athletes with results conveniently stored in a centralized database. The innovative software counts the balance errors committed by the athlete through the course of the BESS test; making administration of the test more consistent and objective.
"The BESS software from Tekscan provides a new level of assurance to team physicians and athletic trainers in that the BESS scores for their athletes will always be determined in the same way, regardless of the training and experience levels of the tester," said Jaclyn Caccese, Doctoral Student - Biomechanics and Movement Science, University of Delaware. She continued, "This gives them the peace of mind and confidence that they can meaningfully compare and trend their athletes' BESS scores relative to their baseline, even over multiple seasons."
The SportsAT Software features:
Consistent, reliable baseline and follow-up test scores
Virtual elimination of most human errors in performing and documenting the test
Full portability that allows users to test in the field without compromising reliability and accuracy
Smartphone and tablet support
"Sport related concussions are a serious issue for athletic programs nationwide and the implementation of reliable, validated, return-to-play protocols as part of a comprehensive concussion management program are essential in protecting the health of our athletes." said Peter Gantchev, Senior Medical Product Manager at Tekscan, Inc. "The Balance Error Scoring System (BESS) is a validated protocol that is part of a larger concussion assessment program. Tekscan has automated the BESS and SCAT3 tests and made it easy for anyone to perform so that athletic trainers and team physicians can be confident that they are always getting accurate and reliable scores."
SportsAT software is now available for shipment worldwide. For more information call 617-464-4500 or contact info@tekscan.com.