How We Developed a Best-in-Class Gait Analysis System
It's been almost a year since Tekscan launched the Strideway™ Gait Analysis System. We were met with incredible interest and enthusiasm when it debuted at the APTA meeting in San Antonio, TX, and this is still just the beginning. Industry feedback and market needs drove the development of Strideway, so we wanted to take this time to explore the design process with the people who made it happen, and share some of the stories with you.
When asked about the development of Strideway, CTO Rob Podoloff said, "We saw a need in the market for a more precise gait analysis system that could be easily configured and used for longer lengths, and we came back with this idea for a modular tile system, which ultimately became the Strideway." He went on to add, "We targeted being best-in-class, and I think we exceeded that."
We listened to the wants and needs of those who would use Strideway, which is what inspired the system's modular design that offers greater flexibility in terms of product assembly, mobility, and portability.
Industry needs we identified
Low-Profile – To avoid tripping hazards or alterations to gait.

We wanted Strideway to lie as flat as possible to avoid any tripping hazards or alterations to the patient's gait. "To achieve what the market demanded, we needed to eliminate what had been key components in the past," said Podoloff. In initial designs, electrical components were stored in a raised area that ran along one side of the tiles. We found this disruptive for clinical use, and worked to minimize any raised areas. The result was a completely flat design, with all electronics incorporated in the low-profile tiles.
Modularity – Customizable for different spaces and needs.

Rather than one long, solid piece to serve as the mat, we developed a tile system that could be assembled and disassembled for greater mobility. The tiles connect to form one mat. As Podoloff mentioned, there was a need for a system that could be easily configured for longer lengths. This design allows for reduction or expansion based on need, and greater capabilities with a longer walkway.
Portable – Easy to move and store, and quick assembly/disassembly.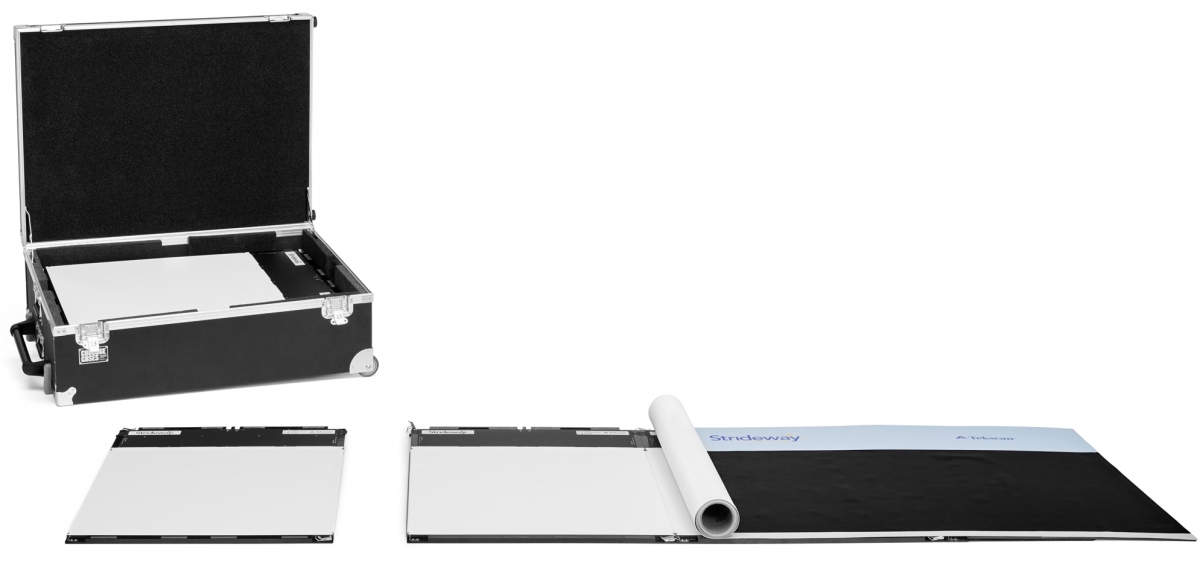 The tile system that we developed for Strideway also lends itself to improved portability. The entire system can be disassembled in minutes and packed into its wheeled case for travel or storage.
The Strideway system helps clinicians and researchers gain actionable insight into underlying gait abnormalities, inefficiencies, or imbalances which might otherwise go undetected. Doing so in a modular, portable, and low-profile design was the goal, and feedback thus far seems to indicate that we achieved it.
We've designed what we believe to be a best-in-class gait analysis system, but we're constantly looking for ways to improve. We're certainly proud of the way Strideway has been received, and we're excited for what the future will bring.