Take Quantifiable Control of Therapeutic Ultrasound Devices
Therapeutic ultrasound is a common practice used by physical therapists to assist in healing muscle, tendon, joints, and ligament injuries. In this process, high-frequency sound waves are transmitted from a hand-held device or probe onto the patient's injury to penetrate and vibrate deep within the tissue, creating a heating effect. This effect promotes blood circulation to the affected area, and helps advance the healing process.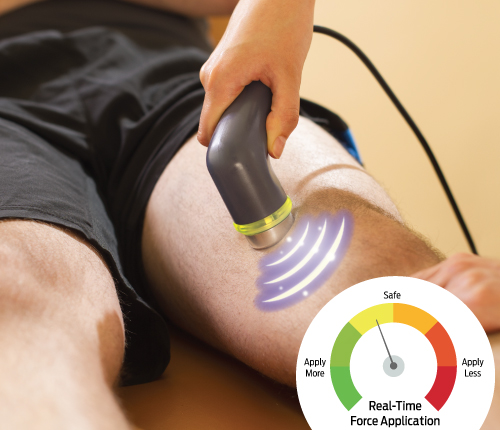 To improve ultrasound treatment effectiveness, physical therapists should apply hand-held device or probe to the patient with a safe, consistent amount of force. Not only does this ensure ideal contact on the patient, but it can also prevent against further discomfort.
How FlexiForce™ Touch Sensors Can Help
Therapists using ultrasound devices on their patients will typically make circular movements around the patient for the duration of the treatment. Embedding FlexiForce™ touch sensors onto contact points of the hand-held device can be used to monitor safe, even contact throughout the process. A signal sent from the head of the device onto a reviewing monitor can instantly display this force feedback, instructing the therapist to apply more or less force as treatment proceeds.
How Else Can FlexiForce Touch Sensors Improve Safety and Consistency of Physical Therapy & Rehabilitative Processes?
Physical therapists undergo years of training to develop techniques to manually evaluate and treat their patients. Even with this training, however, there will always be variation between therapists in the amount of force they apply to their patients. Designing devices to obtain force feedback from common physical therapy activities can help therapists develop safer and more accurate treatment programs to serve their individual patient's needs.
Download this free eBook to learn more!