Pressure Measurement Improves Packaging Design and Sealing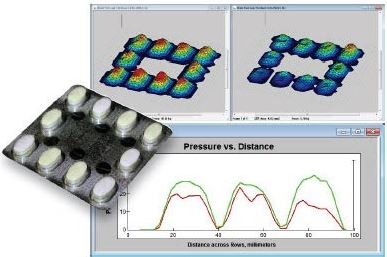 3D display of the pressure output from a pill blister pack. The image on the right clearly shows uneven pressure within the blisters due to a poor seal.
Identifying defects in product packaging, as well as optimizing their manufacturing process, is essential for keeping products fresh, sanitary, and free of damage. The I-Scan™ pressure mapping system can be used to measure the effectiveness of various packaging seals to prevent leakage and ensure quality, a critical focus for packaging OEMs and their users. Using a software API, Bonfiglioli Engineering physically integrated the I-Scan system into their machine (top left) which determines if air is leaking from blister packs by detecting cavities with low pressure . The interface pressure data that was captured can be used to conduct quality control tests and develop optimal packaging designs.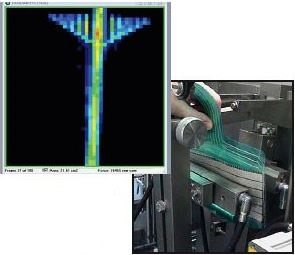 Pressure output during the sealing of an IV bag.
By testing the pressure produced by the clamp sealing assembly, I-Scan can also determine if the packaging machine is delivering an effective seal to the product. The resulting pressure data can help troubleshoot mechanical problems, minimizing waste during production. The information can also be used for research and development to improve sealing machine design.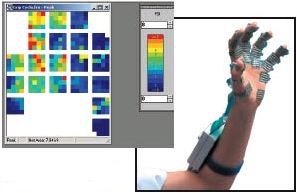 Tekscan Grip System
To further assess packaging design, the Grip™ System evaluates the ergonomics of packaging materials to measure the amount of force required to open, squeeze, and close containers. Areas on the hand and fingers that experience high forces during various gripping activities can be easily identified. The packaging can then be modified to become more ergonomic and functional.
Measurement Types:
Idenfity improper seals/leak testing
Machine troubleshooting
Worn parts
Low forces
Uneven sealing bars
Uniformity on lable appliers
Determine required forces needed to grasp/open an object
Quality control
Testing and validation
R&D for new machine design
Competitive benchmarking
Benefits of Using I-Scan™:
Troubleshoot & prevent leaks
Design validation
Quality assurance
Increase yields
Minimize product waste
Industries:
Packaging
Pharmaceutical
Consumer Products
Food & Beverage
Printing
Packaging Machine Design
See how Pressure Mapping Technology can help prove proper seal contact, such as in the case of product packaging processes: