Glove Comparisons Using Pressure Distribution
Challenge
Accurate grip pressure measurements are extremely important for development of ergonomically sound products. Achieving reliable grip measurements is a difficult task.
Solution
Tekscan's Grip™ system provides detailed pressure profiles, forces and graphical analysis displays for various grip applications. Tekscan's systems have recently been used to evaluate the different forces required for a human hand to grasp an object while wearing gloves made of different materials. A hand was instrumented with an ultra-thin Tekscan sensor (model 9801), and was used to conduct tests of gloves of various materials, such as rubber, soft cotton, Lycra and stainless steel yarn gloves.
These results assisted in the creation of a force and pressure database that will be used for competitive analysis of the various glove products and performance, comfort and fit analysis, aiding in the research and design process. Sensors are available in different shapes, are reusable and provide accurate pressure readings. With the help of Tekscan's highly qualified sales and engineering team, each system can be configured to meet your needs.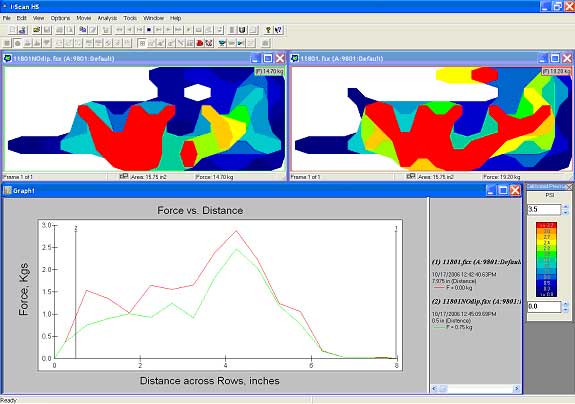 Comparison of force vs. distance while grasping a small diameter pole. The same subject first wore a knit glove, then a knit glove with a rubber coating. Sensor 9801 has six individual "fingers" that were placed on the subject's hand.
Grip Pressure Measurement Applications
Determine required forces needed to grasp an object
R&D for new product design
Competitive bench-marking
Benefits of Pressure Mapping
One subject can grip several objects, in many ways
Sensor position can be optimized to identify pressure on parts of the hand during various grips/maneuvers
See how Pressure Mapping Technology can help product designers test for comfort: