Bounded by the limitations of articulating paper alone, many clinicians struggle to accurately identify occlusal forces and interferences when performing a bite adjustment. In order to collect otherwise unattainable data, objective bite test technology is required. In this free eBook, Dr. Jin-Hwan Kim details several of his clinical cases in which he utilizes T-Scan™'s bite sensor technology to precisely capture and interpret a patient's bite force measurement.
Explore Dr. Kim's case studies in this eBook to learn how you too could be successfully assessing and treating patients in your operatory with a T-Scan bite analysis.
Download Computerized Occlusion: Using T-Scan™ III to find out how you can: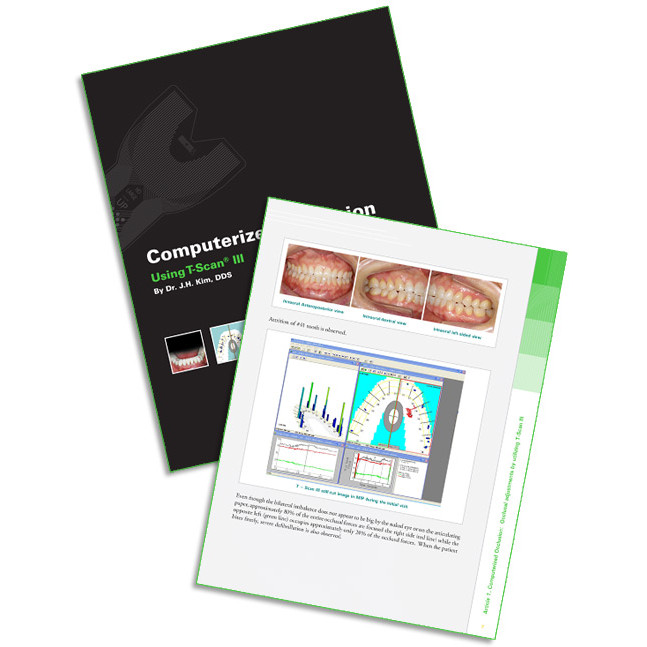 Improve efficiency of restorative cases
Resolve undiagnosed pain in the jaw/mouth
Manage and adjust implants to minimize breakage
Locate and identify traumatic occlusal contacts
Studies repeatedly show that it can be very difficult for a clinician to accurately identify which occlusal contact has more force than the others nearby when using articulating paper alone. By enabling us to identify previously unobtainable occlusal force characteristics (which have never been possible to detect with articulation paper), the T-Scan III can help ensure that high quality and complete occlusal end-results are predictably obtained from clinical occlusal treatment.
* Special thanks to our friends at Yours Dental Co., Dr. Jin-Hwan Kim and Dr. Robert Kerstein for their contributions to the creation and translation of this book.