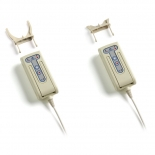 Touch-Free Sensor Support for Digital Occlusal Analysis Released
New Sensor Support for T-Scan™
Tekscan, Inc. has recently released a new accessory for the T-Scan™ system, a digital occlusal analysis device that measures the timing and force of contacts in the mouth using sensor technology. The new product is a Touch-Free Support, designed to support the T-Scan Sensor primarily at the handle interface with significantly shorter tines than the standard Sensor Support.
The Touch-Free Support holds the sensor in the same way as the existing support, except the tines are significantly reduced in length - minimizing contact with the buccal mucosa, which is ideal in the neuromuscular (NM) dentistry environment. NM protocol is founded on the principle that finding the natural bite of the patient is only achievable by electronically stimulating the jaw muscles - and not the manual process of self-closure or clinician-assisted closure. The Standard Sensor Supports come into contact with the sides of the mouth. Eliminating tine contact with the cheek using the Touch-Free Support prevents the patient from altering the desired physiologic trajectory during neuromuscular occlusal analysis. The Touch-Free Support meets the needs of NM dentists who measure dental occlusion through electronic stimulation.
"All dental practitioners who subscribe to the neuromuscular philosophy of dentistry will find that the new Touch-Free support accommodates their occlusal analysis techniques when using T-Scan," said Sarah Hutchinson, the Dental Product Manager at Tekscan. "In addition, it's a valuable accessory when analyzing the occlusion of patients with unique dentitions that may be difficult to analyze using the standard supports."
The T-Scan Touch-Free Sensor Support costs $35 USD for a box of two supports and is sized universally to fit small and large sensors. Instructions for proper use are included on the product label.