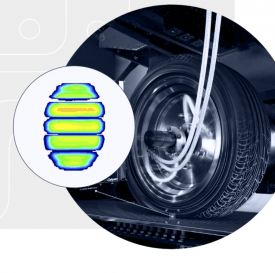 Tekscan Launches Revolutionary High-Speed Tire Pressure Testing System
FOR IMMEDIATE RELEASE
Elizabeth Hood, Marketing Program Manager
Tel: 617-464-4500 x223 Email: ehood@tekscan.com
Tekscan Launches Revolutionary High-Speed Tire Pressure Testing System
Norwood, MA. March 20, 2023
Tire manufacturers can now get better and faster answers to answer the question "What happens when the rubber meets the road?"
Tekscan announces the official launch of its new High-Speed TireScan™ system. With the introduction of this lightweight but rugged system, tire manufacturers and testing facilities can now accurately, repeatably, and efficiently measure dynamic contact patch pressure (DCPP) information from a tire running on a belt at speeds up to 165 mph (265 km/h).
For years, the only way to get this type of data involved testing either at very low speeds, or on a drum test machine. The limitation of these approaches is that they aren't representative of real-world conditions. Thanks to a multi-year development effort between Tekscan and the R&D team at Calspan, tire industry engineers can now have insight on the impact of speed, load, slip, and inertial forces on tire performance on a belt/flat-track.
High-Speed TireScan empowers users to capture and store dynamic contact patch pressure information for comprehensive analysis and advanced tire design. Specifically, users will be able to:
Characterize contact patch behavior at high speeds and high slips
Illustrate tire wear
Improve contact patch representation in model formulas
Evaluate rolling resistance
Validate and improve existing Finite Element Analysis (FEA) models
Optimize tire selection for vehicle design
Calspan's Director, Research & Development Mateo Gladstone notes, "Thanks to this new technology we can for the first time make the connection between contact patch behavior and real-world tire performance, which ultimately help our customers develop better tires. Since Tekscan's ultra-thin and flexible pressure mapping technology goes in between the belt and contact patch, it can capture pressures where other imaging and sensor technologies can't, it was the natural fit for Calspan's tire test machine."
Camilo Aladro, Product Marketing Director, Tekscan, adds, "Tekscan was keen to partner with Calspan on this project. We knew that instrumenting our sensors and electronics onto a belt moving at such high speeds would pose some unique challenges initially, but the motivating factor for us was the knowledge that if we could make it work, the tire market would have access to game-changing testing capability and insights. It's exciting for the future of the tire industry."
The launch of this product reflects Tekscan's ongoing commitment to provide the most advanced pressure mapping technology that can offer insights to validate and enhance product design, manufacturing, and quality.
Attendees at the Tire Technology Expo 2023 in Hannover, Germany, will be able to hear from Tekscan and Calspan during the Day 1 session on Advanced Tire Analysis using the Latest Modeling, Testing and Simulation Methods.
For more information, visit: https://www.tekscan.com/high-speed-tire-analysis
About Tekscan
Since its founding in 1987, Tekscan has been at the forefront in the research and development of ultra-thin force and pressure sensing technology for use across a wide range of applications. With a strong patent portfolio and proprietary technology, Tekscan maintains its world-leading position in the area of tactile force and pressure sensing by providing customers with actionable information they need to optimize product design and improve clinical and research outcomes.
# # #