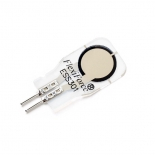 FlexiForce's New ESS301 Sensor for High Temperature & Humid Environments
FlexiForce™'s New ESS301 Sensor: Better Sensor Performance in High Humidity & Temperatures
The new ESS301 sensor is made from Tekscan's new Enhanced Stability Series (ESS) pressure sensitive ink that allows for the same high quality performance as our other standard sensors, but with the added benefit of measuring force in a wider range of temperature and humidity. The ESS301 is capable of measuring force and pressure in environments with temperatures up to 85°C and with a relative humidity up to 95%. This allows better performance in a wider range of operating and storage conditions.
This new premium sensor series was developed with OEM customers in mind and designed to reach the majority of our OEM customer's test expectations. To view the sensor specifications or purchase, please click here.
Benefits of ESS301 Sensor
Economical for a premium product
Greater flexibility
Superior linearity & accuracy
Expert technical guidance
Wide range of forces
Off-the-shelf availability for testing & prototyping
Available for custom sensor designs
FlexiForce™ ESS301 sensors have a force range up to 100 lbs using the recommended circuitry. The force range can be extended by reducing the drive voltage, VT; or the resistance value of the feedback resistor, RF. Conversely, the sensitivity can be increased for measurement of lower forces by increasing VT or RF.
Sensor output is a function of many variables, including interface materials. Therefore, Tekscan recommends the user calibrate each sensor for the application. The graph below is an illustration of how a sensor can be used to measure varying force ranges by changing the feedback resistor (the graph below should not be used as a calibration chart).
Test Conditions: Input Voltage- 0.45V; Load Applied - 1lb; Measured Current- 79uA
The ESS301 is available in one force range measuring up to 100lbs and can be purchased off-the-shelf today. The sensor is now available in our online store in packs of four and eight. The sensor is also available in high quantities for prototyping and available in custom sensor designs.