TekTalk Series: Candid Conversations with Key Dental Influencers (Virtual Event)
November 4, 2020, 11:30 am – 12:30 pm
Tekscan is hosting an ongoing series of virtual conversations with some of dentistry's key figures and continuing education partners. Enroll for the series and gain free access to exclusive T-Scan workshops by leading dentists!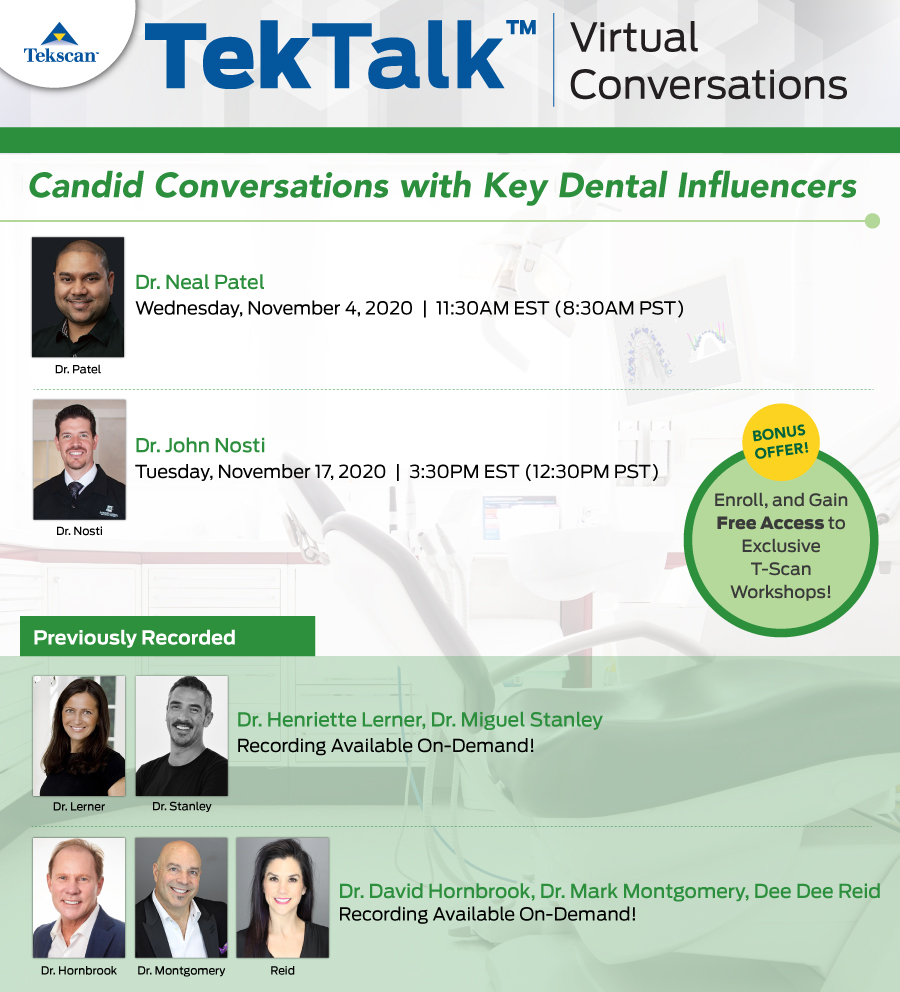 ---
Together, we will Succeed Through a Complex and Rapidly Changing World
Dentistry thrives on human interaction. The relationships you have with your patients, staff, and colleagues are vital while navigating through many new changes in the dental industry. By collaborating, and sharing our experiences and triumphs, we can support one another.
Over the next few weeks, Tekscan is hosting a new free-form TekTalk™ Virtual Conversation series called "Candid Conversations with Key Dental Influencers," starring some of the industry's noteworthy educational leaders. The goals for this series are to:
Share the experiences that likeminded dentists have endured and the steps taken to adapt to a new era of dentistry
Teach you new ways to give your practice a boost with dental technologies, whether by reducing patient revisits or remakes, or by creating a new revenue stream
Help you strategize and plan for a successful future
Bonus offer!: All enrollees will receive free access to
4 Exclusive T-Scan Virtual Workshops, hosted by Dr. Robert Kerstein.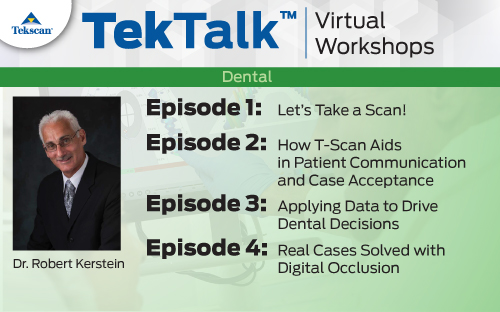 Complete this Form to Enroll in this Virtual Program
Even if you cannot attend the live event, all conversation recordings will be distributed to all enrollees upon completion.
All enrollees will have access to the free TekTalk Virtual Workshops when available. Please check your inbox for further details.