F-Scan: Complete Foot Function Analysis, Straight from the Sole
January 21, 2020, 11:00 – 11:45 am
Marshall Kendall, PhD, provides an in-depth look into capabilities and methods for using Tekscan's F-Scan in-shoe system, including software tips, and real-world research successes.
Gait Researchers: What could access to objective in-shoe pressure insights mean to your work?
With the ability to capture dynamic pressure, force, and timing information, the F-ScanTM system has shown to be a powerful technology that helps gait researchers and clinicians take a walk in their subject's shoes. However, in order to really understand the full capabilities of this technology, and the value it can bring to your research project, it's best to see F-Scan in action.
This live webinar, hosted by Marshall Kendall, PhD (Tekscan Market & Product Development Manager, and Research Liaison), provides a first-of-its-kind experience into the capabilities of F-Scan technology. This webinar will include:
An in-depth comparison of F-Scan against other gait technologies
An advanced look into F-Scan's research software, including useful tips for using the system, and interpreting your data
Recent research successes using F-Scan technology in athletics, orthotics research, and more
Check out how researchers are using F-Scan today!
Register for this Live Webinar Now!
Date: Tuesday, January 21, 11 AM (EST)
Unable to attend this live event? Register anyway, and we will email you the webinar recording.
Presented By: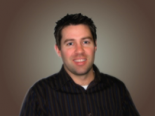 Marshall Kendall, PhD
Market & Product Development Manager, Research Liaison
Tekscan, Inc.