Optimize product design, ensure quality control and quantify comfort
When it comes to designing innovative and top of the line products, design engineers must understand the ins and outs of their product design. Body pressure mapping, also known as body pressure imaging, is an innovative technology that measures the pressure distribution between the human body and nearly any support surfaces, including:
Home or office furniture
Automotive and transportation seating
Mattresses
Wheelchairs
Medical and therapeutic equipment, and more!
A Configurable System for Your Unique Body Pressure Mapping Application
The Body Pressure Measurement System™ (BPMS) is Tekscan's solution for body pressure mapping applications. The system consists of data acquisition electronics, sensors, and software.
The thin, flexible body pressure sensor dynamically measures interface pressure to help assess comfort, design, and ergonomics. This system can be configured to measure any size seating, mattress, or support surface.
Below is an example of the system in use for seat comfort and ingress-egress testing on automotive seats:
​BPMS applications include:

Comfort analysis
Ergonomic testing
Support surface design

Understanding body shifts - static vs. dynamic (ingress/outgress)
Material testing
Durability and longevity studies
Modular Sensor Construction
The BPMS is a modular system, meaning you can use one or up to 8 of the thin, flexible pressure sensors. Sensor features include:
Spatial resolution as fine as one sensing element per square centimeter
As many as 2,016 individual sensing elements per mat (when using multiple mats can have up to 16,128 sensing elements)
Our largest sensor is the 5400 sensor model at 578.0 mm x 884.0 mm (22.76 in x 34.80 in)
Ability to measure overall pressure distribution patterns
Our premium sensor, CONFORMat™, has a unique technology that eliminates hammocking while conforming to a surface
Feature-Packed Body Pressure Mapping Software
BPMS software allows you to capture real-time and recorded data in 2D & 3D formats.
This system captures key metrics when it comes to measuring the pressure distribution between the human body and a surface, including total force, peak pressures, and center of force. The software gives the user the ability to make quick assessments of asymmetry, as well as conclude peak pressures at a glance. The software also allows the user to view and compare multiple test results simultaneously and export data to ASCII or AVI files.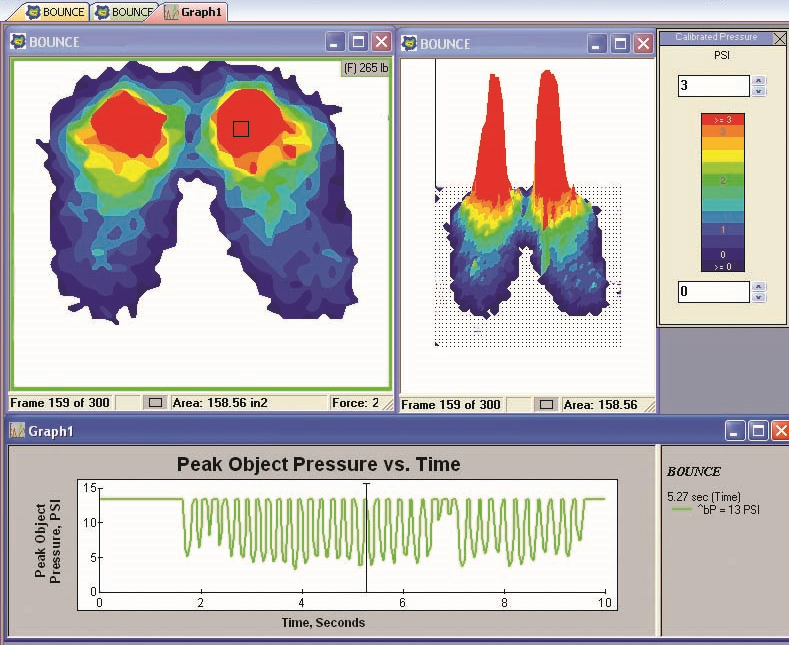 Software Display - Car Seat test: Pressures caused during driving when vehicle bounces, 2D and 3D views of peak pressure, with graph of peak pressure vs. time.
Want to Learn More? We're Happy to Help!
Contact us to learn more about Tekscan's body pressure mapping solutions!
Not Ready Yet? Browse Our Body Pressure Mapping Resources