Steering Wheel Ergonomic Tests Using the Grip™ System
Challenge
While it is often a key feature in the purchase decision of an automobile, driver comfort can be a difficult aspect to test and measure. Most vehicles today are manufactured with instrumented steering wheels that include several buttons and other features for an easier and intuitive driving experience. As a result, steering wheels need to be designed to meet the important ergonomic needs of the driver.
Solution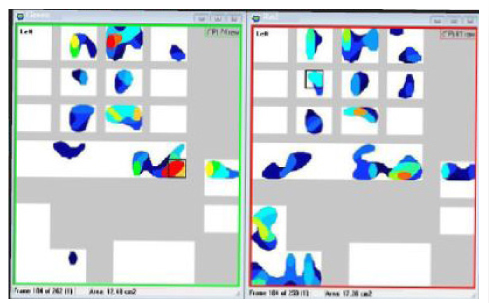 Data from the Grip™ system indicates how different pressures are felt by the driver while interfacing with a steering wheel during different driving activities.
The Grip™ pressure mapping system can be used to identify and examine forces and pressure felt by each finger, the thumb and palm, improving steering design.
The Grip pressure mapping system measures and record the dynamic pressures and forces on hands and fingers apply while gripping, lifting, and turning the steering wheel, as well as the pressures felt when reaching for different touch points on the steering wheel itself. These tests can also be used to quantify vibrations felt by the driver while driving or idling, which can be used to potentially improve other areas of the vehicle design.
With the help of Tekscan's highly qualified sales and engineering support team, each system may be configured to meet your specific needs.
Measurement Types:
Identify high/low pressures on a hand
Determine required forces needed to grasp an object
Detect effects of vibration
R&D for new product design
Benefits:
One subject can grip several objects, in many ways, once the hand is instrumented
Sensor position can be optimized to identify pressure on parts of the hand during various grip/maneuvers
Fast sensor response and high scan rate up to 850 Hz