Improve Seat Belt Design & Comfort With Pressure Measurement
Challenge
Seat belts are a very important safety device in a vehicle but ineffective if not worn properly. Studies of why people don't use their seat belts highlight comfort as a critical factor.
Solution
The I-Scan™ pressure and force mapping system can assist with comfort design of seat belts. I-Scan can measure the pressure that is experienced by the driver when the seat belt is pulled taut against the body, such as during extreme braking or collision conditions.
The I-Scan pressure mapping system provides data in real-time and 2D or 3D pressure displays. Areas experiencing high pressures can easily be identified, compared and adjusted to maximize comfort while maintaining the safety of the passenger. With the help of our highly qualified sales and engineering support team, each system may be configured to meet your specific needs.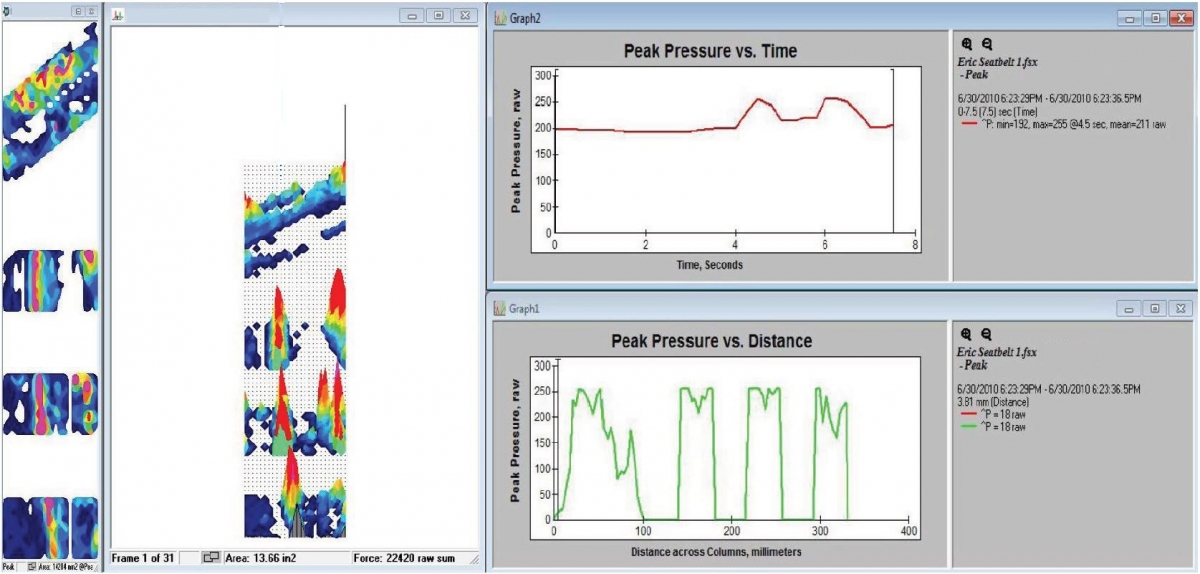 Seat belt peak pressure profile
Seat belt Pressure measurement applications
Research and design
Comfort testing
Quality assurance testing
Comparative testing
Benefits of Pressure Mapping
Identify areas that tend to receive high or low pressures
Evaluate pressure measurement across a population
Repeatable output
See how Pressure Mapping Technology can identify pressure to help quantify comfort: