Whether you are designing a battery for consumer electronics, a new automotive EV design, or any innovative battery product in a green economy world, you have the same engineering goals: Performance, Lifespan, and Safety.
The charge and discharge cycles of lithium-ion batteries requires strict measurement of heat and pressure, in both prototyping and man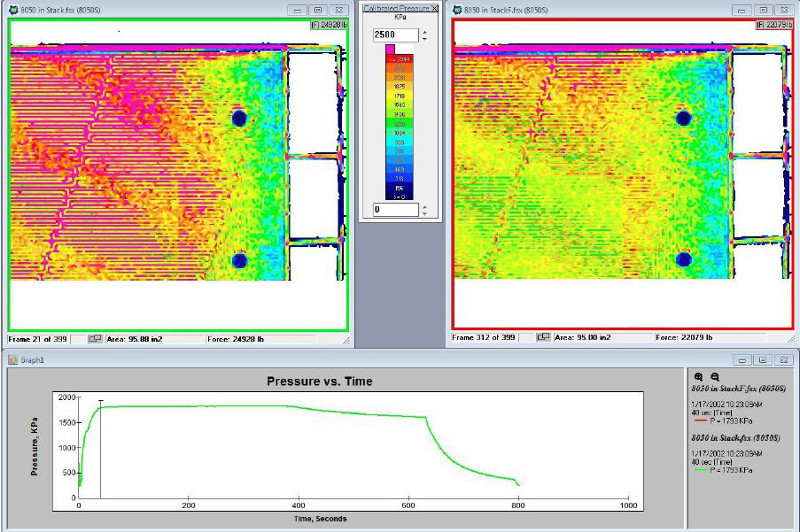 Pressure around ports and in flow field before and after pressurization.ufacturing. Measuring pressure exchanges within the battery housing can yield important insights.
Tekscan's I-Scan pressure measurement system gives engineers key insights at any stage of the battery design and development process. Pressure mapping helps bring power innovations into reality.
Battery Design Pressure Measurement Applications
Whether you are working on traditional lithium-ion batteries, the newest solid-state compositions, or testing the components of the future, our pressure mapping system analysis helps you test, diagnose, and innovate your battery design in the following ways:
Electric Vehicle Applications
In addition to the core battery stack assembly and design, pressure mapping system analysis is key to electric vehicle charging port design, as well as safety testing and quality assurance.
Battery Life and Performance - On-Demand Webinar
We have an on-demand webinar for more info on how pressure mapping helps you improve battery life and performance.
Engineers all over the word are using I-Scan to gain insights into their battery design for automotive, consumer electronics, and more.
How can we help you?
We can help you find or customize a product for your application.