Pressure Mapping Of Automotive Seats
The Body Pressure Measurement System™ (BPMS™) is widely used to "pressure map" people sitting on automobile seats and office chairs. The information gathered provides input for improving seat designs and comfort. The system is both dynamic and very portable, so it can be just as easily used in a laboratory as in a moving automobile. GM, Ford, Toyota, Honda, BMW, PSA, Volvo, Delphi, Johnson Controls, Faurecia, Magna and Steelcase are just a few of the companies using BPMS.
The images below shows the dynamic inter-relationship of seat back and cushion pressure when the driver pushes on the brake pedal. A Tekscan pressure sensing mat was placed on the seat back and cushion and the output is shown in Figure 1.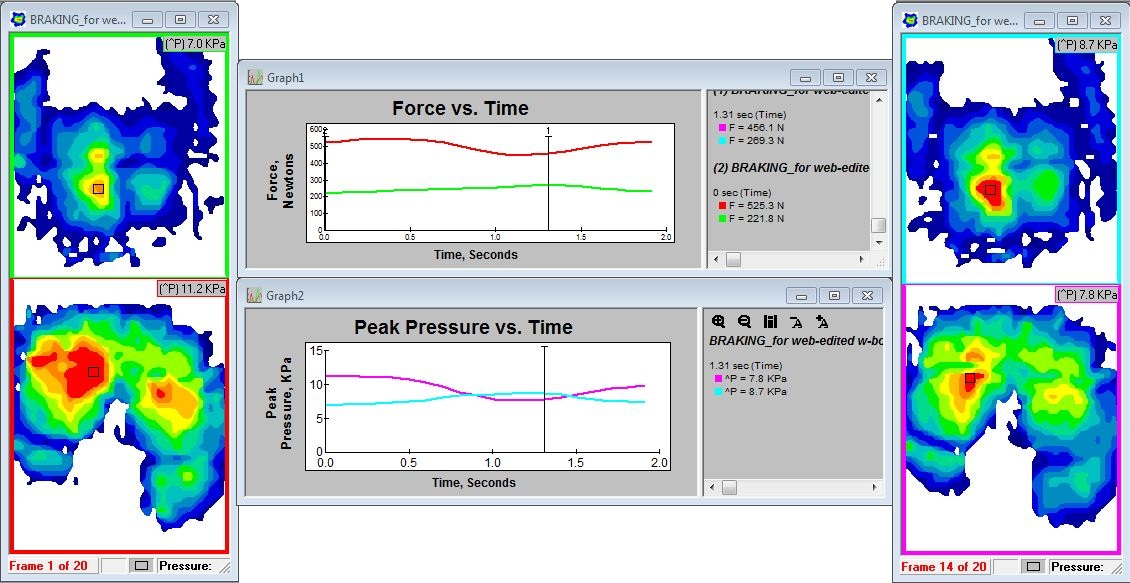 This screenshot represents the pressure distribution of the driver as he prepares to apply the brakes. The (red) elevated pressure on his right buttock is a result of lifting his right foot. The colored image on the right shows the change in pressure distribution that occurs while applying the brakes. Note that the (red) high pressure region shifted from the buttocks to the lumbar region.
Automotive seat pressure mapping Applications
Comfort studies
Identify:

Pressure changes over time
Measure contact area
Localized peak pressure zones

Measure the effect of:

Stitching
Bolsters
Wire stays
Foam stiffness
Seat angles
Lumbar supports
Cover materials
Benefits of Pressure Mapping
Optimize foam stiffness and cover materials
Select the best ergonomic position of the driver
Study ease of occupant ingress and egress
Measure changes in driver's position during high activity and over long periods of time
See how Pressure Mapping Technology can identify pressure to help quantify comfort: