Overview
Foot Mapping Solutions

Tekscan offers standard and customized solutions built on our foot mapping technology that help you drive success in your retail outlets. Learn more about how foot mapping can help you:
Increase leads and contacts
Capture customer information for marketing campaigns & cultivating relationships
Increase orthotic sales
Provide an engaging & interactive customer experience
Distinguish your retail outlet from the competition
Tekscan's Digital Footprint Technology
Footprint Plus is Tekscan's standard retail solution with our digital footprint technology. Using wireless pressure measurement mat and tablet based customer engagement software; the system captures static and dynamic pressure information to educate about the foot. The system automatically characterizes the arch, shows the foot roll during walking, measures weight symmetry and displays pressure map to identify high pressure areas.
See how digital footprint technology can help you create an engaging in-store experience unlike any other in the video above.
Looking for a customized solution?
Let Tekscan help you create a custom foot assessment system to meet your business needs. Tekscan has both software and hardware engineers available to help create the perfect foot mapping system to achieve your business goals. Learn more here.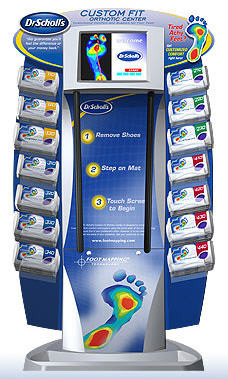 The Custom Fit Orthotics kiosk that Dr. Scholl's and Tekscan worked together to develop.

A Partner You Can Trust
Tekscan and Dr. Scholl's® (Bayer HealthCare LLC ) worked together to develop a solution for providing a compelling and meaningful customer experience that helps consumers select an appropriate orthotic for their needs, while at the same time educating consumers about their feet. Click here to learn more about this collaboration.
Tekscan's Charlie Malacaria was recently featured in a Round Table discussion in Running Insight about the future of retail footwear stores. Read the full interview in the April 16th issue of Running Insight here (page 14) or download the PDF here.
Products & Solutions
Standard Foot Mapping Solutions
Using our digital footprint technology, Tekscan offers a standard product to engage and educate customers in a retail footwear setting about their foot.
Custom Solutions
Are you looking for a foot mapping system that matches your brand identity?
Customization is available! We have experience working with all types of companies from large retail chains to footwear manufacturers. No project is too large or small!
Custom SolutionsHardware Branding

Platforms can be customized to include your logo and branding elements. We can create a mat with custom colors, graphics or logos to match your brand.

If you don't see a platform that meets your needs, contact us.

Software Application Customization

The software application can be customized to a variety of degrees including: incorporating your logo, corporate colors and branding elements throughout the software.

Additionally, the application flow be customized to match your selling process. Below are a few ideas of customization:

Add in mobile cash register
Store customer preferences & purchase history
Language translation
Product recommendation engine with your selected brands
Integration with existing back end systems

Build Your OwnWant to try it yourself? … Develop a Custom Solution Yourself with our Software Development Kit!

With our Software Development Kit, you have the ability to write your own program to extract data collected from our pressure measurement systems. The SDK includes an Application Programming Interface (API), Dynamic Link Libraries (DLL) and sample code examples.

Build your own application using the API tools in the SDK to display in real time foot contact pressure and area data from one of Tekscan's pressure sensing mats

Learn more here.
Not sure which solution is best or want more details? Contact us to learn more!
Applications
Applications
Tekscan's standard offering pressure measurement systems have been used in a variety of applications for plantar pressure and foot function assessments. Whether you are looking for a way to increase customer comfort with footwear selection or educate your customers about their feet, Tekscan can help.
In our featured application, Tekscan worked with Dr. Scholls to develop a custom solution to help customers choose the appropriate orthotics.