Overview
Precise Case Finishing
Achieving a balanced occlusal scheme during orthodontic and restorative cases is critical to maintaining a beautiful smile (both aesthetically and functionally). With T-Scan™'s digital bite force data, you can identify early and high forces that pose a threat to the longevity of ceramics and natural teeth.
Gain commitment to treatment by showing patients a visual representation of their occlusion and explaining how you will manage destructive forces throughout their case to avoid fractures and breakages.
Benefits: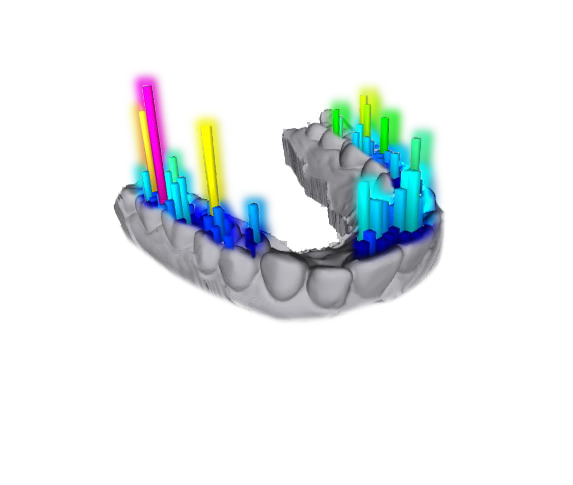 Bite force readings display the timing and force of individual teeth coming together
2D and 3D mapping allow dentists to pinpoint high spots and extreme forces
T-Scan data helps the dentist determine where adjustment is needed
Remove interferences that can cause extreme fractures and breakages
Tekscan recently formed a new partnership with Digital Smile Design. This partnership includes collaborating on education, implementing T-Scan into the DSD protocols and integrating the T-Scan technology into the DSDApp. This collaboration and integration is the first of its kind for the dental business.
DSD concepts are widely adopted by dentists worldwide, with over 15,000 app users to date and growing. Dentists using Digital Smile Design help the patient visualize a cosmetic dental treatment before making a decision and a commitment to accepting treatment.
Applications
T-Scan™ is used in the following cosmetic applications: