This session describes how pressure measurement technologies can assist providers with difficult orthotic cases, resulting in these complex cases being common and often left unresolved. This class of patients typically see many professionals from wide-ranging backgrounds in the medical industry as they attempt to resolve their issues. In effect, patients are left broke, symptomatic, and hopeless. Providers who face complex cases expect results, using experience and peer review journals to figure out the best management plans for these clients. Providers who cannot achieve results become frustrated and discouraged and spend office resources to help these patients. Tekscan gait analysis technology can assist providers with assessing, fitting, and re-assessment of an orthotic case. The session describes three complex cases using pressure measurement technology and how patients and providers can use a data-driven management plan to manage expectations.
Patrick Rainville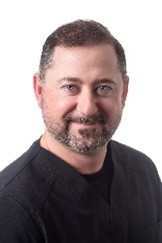 Patrick Rainville graduated as a Chiropodist from the Michener Institute of Applied Health Sciences in 1997. He is a member of the Ontario Society of Chiropodists and the College of Chiropodists of Ontario.
Rainville Foot Health has been established for twenty-five years. It is co-owned with his business partner and wife, Tina Marie (Rivest) Rainville, in Timmins, Ontario. The Rainville's also has co-established practices in Owen Sound and Hanover. The clinic has a multidisciplinary approach to foot health. The team consists of RPN Foot Care Nurses, a Pedorthist, Lab Technician, Chiropodists and Support Staff. Patrick holds the post of Visionary and Senior Chiropodist for the organization.
The clinic specializes in second opinion biomechanical cases, nail surgery and plantar warts removal. Patrick has had a particular interest in pressure measurement systems and gait analysis.
The practice is a clinical site for the 3rd year Ontario Chiropody program. It also regularly hosts medical students from NOSM as a part of their clinical rotations. Patrick continues to help his colleagues and profession in the medical foot health industry with his consulting company The Foot Health Network.