Thin and Flexible Strain Gauge Alternative
Strain gauges and FlexiForce® sensors are resistance based technologies available in a variety of shapes and sizes. FlexiForce sensors provide a flexible, paper-thin solution at only 0.008" (0.2mm) thick.
Advantages of Using a FlexiForce Sensor vs. a Strain Gauge
Direct force measurement - measures load directly as opposed to correlating strain of an assembly with load.
Larger dynamic range (resistance range from MΩ to KΩ).
Simpler Electronics - simply measured with multimeter or integrated with inexpensive circuitry.
Lower cost - standard sensors start at $65 for a 4-pack.
Easier to integrate - simple mounting process.
Strain Gauge and Force Sensor Applications
Force sensitive buttons for consumer electronics
In-Shoe applications
Joint force measurement (Example: Measuring forces on the knee, shoulder, hip, etc.)
Massage/palpation force quantification
Low cost inventory management (Example: Measuring approximately how many parts are left in a bin? Is it full? Half full? Empty?)
Free eBook Outlines Strain Gauge Alternative with Thin, Flexible Sensor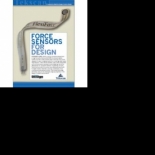 Force Sensors for Design ebookDownload a free eBook, published by Machine Design magazine, and learn more about selecting a thin, low-power, low-cost force sensor for seamless integration and sleeker designs.
eBook topics include:
Comparison of various force sensing technologies such as load cells, piezoresistive, and capacitive sensors
Discussion of issues including power consumption, size, cost, and durability
The background of thin and flexible tactile sensors
Real-life examples of how thin and flexible tactile force sensors have contributed to the success of OEMs in a variety of applications and industries
What to consider in choosing a technology partner, including engineering support, customization, and manufacturing capabilities