Provides pressure data for the analysis, interpretation, and treatment of equine or large animal gait and ambulatory function.
Description
Hoof™ System Features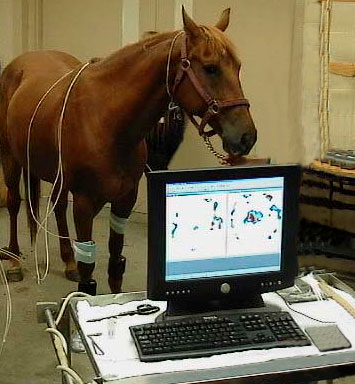 Hoof pressure measured on laptop
Combines practical biomechanics with computer aided technology to revolutionize the analysis, interpretation, and treatment of equine or large animal gait and ambulatory function.
Offers instantaneous data at every critical phase by providing objective, quantifiable data to effectively treat lameness, hoof, shoeing, and other gait related disorders in shod and unshod animals
Wireless capability allows for accurate data capture of the horse's true gait up to 100 meters away from the computer
Scanning speed of 100 Hz
The Hoof sensor is specifically designed for animal hooves and paws
Benefits of Pressure Mapping
Manage animal gait and ambulatory function
Reduce lameness by providing early assessment and institution of proper treatment
Use in pre-purchase examination or performance testing
Easy to apply and use in shod or unshod animals
Document analysis and treatment plus print data and graphs
Applications
Hoof™ System Applications
Animal gait studies and research
Detect hoof imbalances
Assist in differentiating the causes of lameness, such as laminitis, caudal heel syndrome, and degenerative joint disease.
Design and evaluate appropriate shoeing for performance horses.
Evaluate and monitor responses to variable treatments such as joint injections, surgery, pain medication, or corrective shoeing.
Assess and confirm soundness
Numerous articles have been published regarding pressure mapping and its applications. Tekscan has compiled a list of these research publications in our Medical Bibliography.
Configuration
Hoof™ System Configuration
A Tekscan system consists of scanning electronics, software and patented thin-film sensors. Data is transmitted directly from the subject to the computer, allowing for a wide range of applications. The subject can be up to 100 meters away and data can be recorded and displayed on the computer in real time. A 100 Hz scan rate is available with wireless connectivity.
What's included with the system?
2 VersaTek™ Cuffs
VersaTek 2-Port Hub
Hoof™ Software CD
Hoof Sensors Model #3200
Wireless Unit
What are VersaTek Electronics?
VersaTek Cuffs - Every VersaTek based system uses specially designed scanning electronics called Cuffs. The Cuffs connect to the sensor, gather the data from the sensor, and then process and wirelessly transmit the data to your computer. VersaTek electronics sample at the fastest speeds and are compatible with other VersaTek sensors, giving you the ability to add in-shoe, prosthetic, grip, and seating & positioning capabilities to your Tekscan System.
Components depend on system configuration. Additional items may be included with your system purchase.
Sensors
Hoof™ Pressure Measurement Sensors
Software
Hoof™ Software Features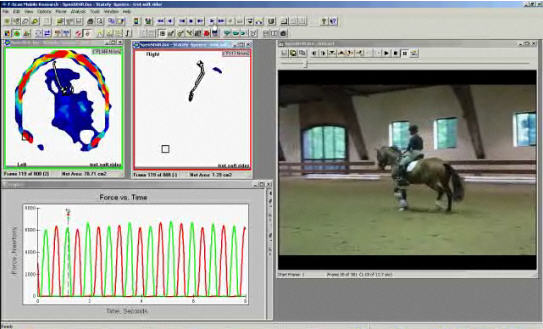 Hoof Analysis
Display 2-D and 3-D real-time and recorded data
Display contact area, average and peak pressures, and Center of Pressure and its trajectory
View data frame by frame
Side-by-side comparisons of pre- and post-treatment conditions
Measure distance between two points (anatomical landmarks or sites)
Isolate and analyze specific regions of the hoof
Import and export subject movie files
The software is available in several languages including Spanish, French and German. View software languages available.