Digital footprint technology to engage and educate retail customers.
Description
Digital Footprint Technology for Retailers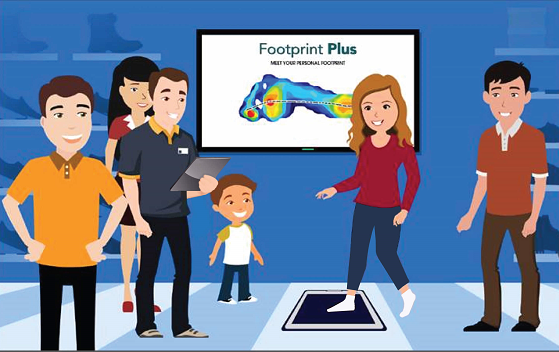 Footprint Plus helps you connect with and engage your customers.
Footprint Plus™ is Tekscan's latest digital footprint technology for engaging and educating customers in footwear retail stores. Using the Footprint Plus wireless pressure measurement mat and tablet-based software application this interactive system will:
Differentiate your retail establishment
Enhance the customer experience
Increase brand loyalty and sales
Capture customer contact information
Help you grow your business
Tekscan is not tied to any orthotic, insole, or shoe company so we don't require you to recommend or carry any specific brands — the choice is yours!
Applications
Footprint Plus™ Applications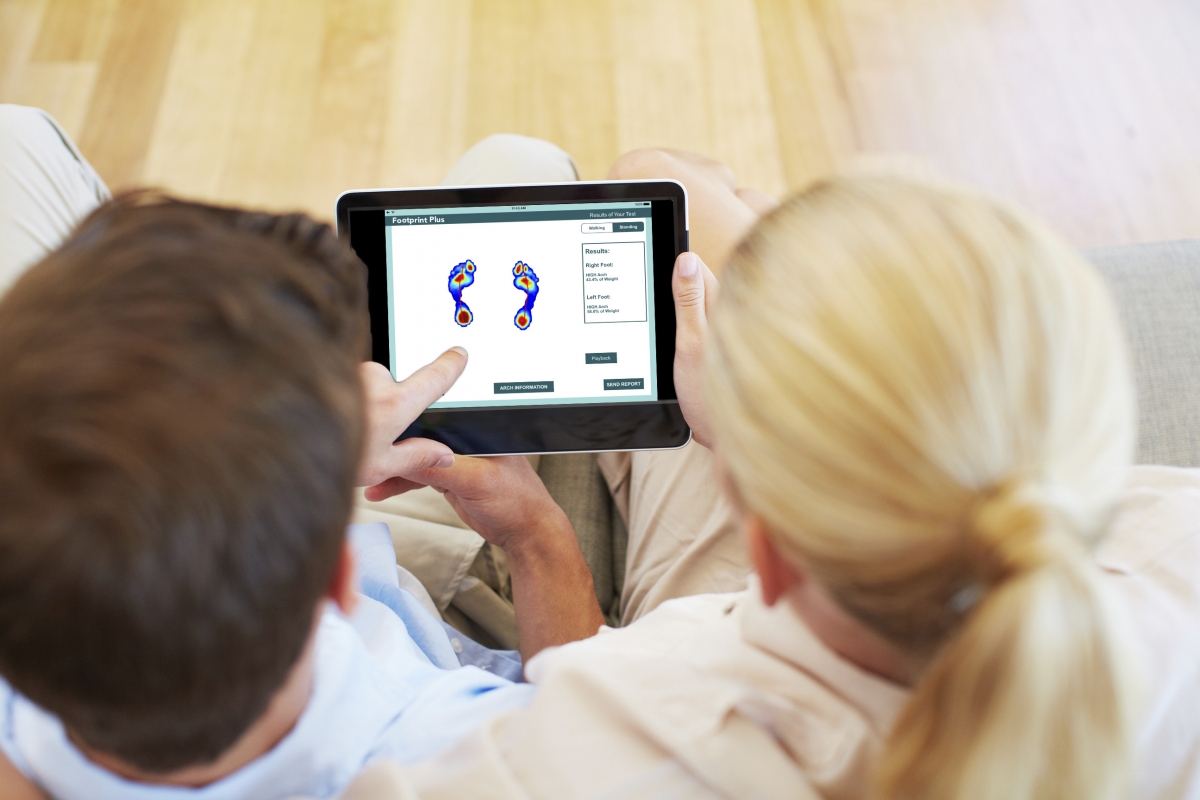 Educate customers about their foot type and characteristics.
Automatically characterize your customers' arch types
Display foot roll and measure weight distribution while standing
Capture customers' attention with high-tech foot pressure mapping displays
View high pressure points in the foot to identify problem areas for each customer
Create an educational and consultative selling process in your retail store
Step Up. Stand Out with Digital Footprint Technology!
See how digital footprint technology can help you create an engaging in-store experience unlike any other in the video above.
*We also offer customized solutions to fit your company's needs! See Customized Solutions for more details.
Numerous articles have been published regarding plantar pressure measurement and its applications. Tekscan has compiled a list of these research publications in our Medical Bibliography.
Customized Solutions
Customize to Fit Your Business Needs
There is a standard system you can buy as is, or you can opt for a custom solution. Our team of software and hardware engineers will work with you to design a customized system that delivers a valuable, interactive shopping experience, while maintaining your specific brand and marketing needs. We offer complete flexibility with the levels of customization available, including but not limited to: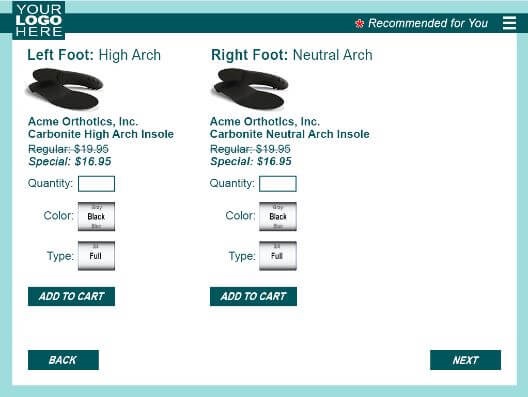 Customize with your company logo to match your brand identity.
Hardware branding to match your identity
User interface/User experience design
Mobile cash register for convienence
Integration with existing email servers and data management systems
Application performance reports
Provide product recommendations to meet customer needs of comfort and function
Store customer information on foot type and footwear preferences for superior customer service and targeted marketing campaigns
We have experience working with all types of companies from large retail chains to footwear manufacturers. No project is too large or small!
Configuration
Footprint Plus™ System Components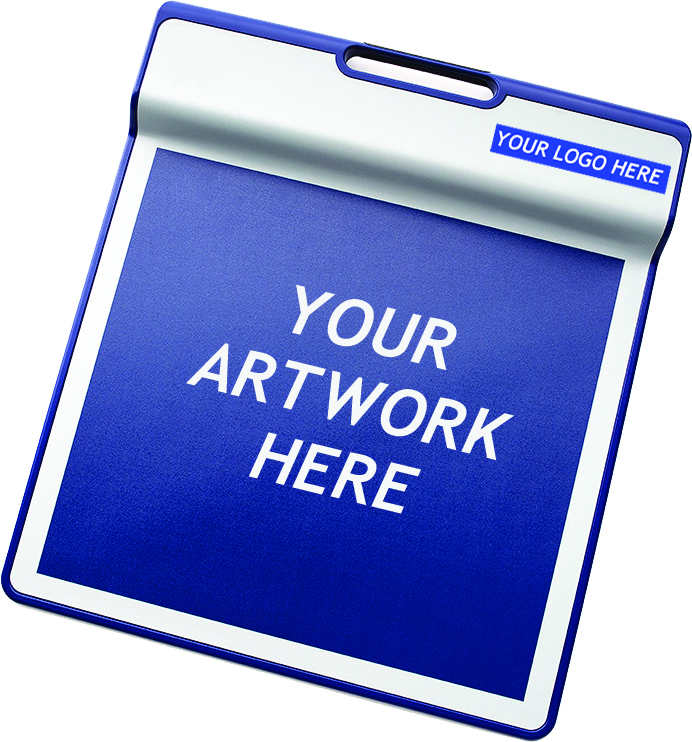 The wireless Footprint Plus platform can be customized to include logos or other branding elements.In addition to the tablet-based software, the Footprint Plus™ connects to the wireless Footprint Plus pressure measurement platform. While the Footprint Plus platform will not be plugged into a PC, it does require a power outlet to power the system.
Additional items may be included with your system purchase.
Footprint Plus Wireless Platform Specifications
Our standard product is compatible with both iOS and Android. The Footprint Plus Wireless pressure measurement platform captures static and dynamic data, which requires only an external 5VDC power supply.
Footprint Plus Wireless Platform Specifications
Platform Dimensions
63.9 x 55.9 x 4.2 cm (25 x 22 x 1.7 in)
Power Requirements
MPS-1 Power Supply 110-220 VAC/50-60 Hz 0.5A Max
Weight
3.5 kg (7.8 lbs)
Software
Footprint Plus™ Software Features: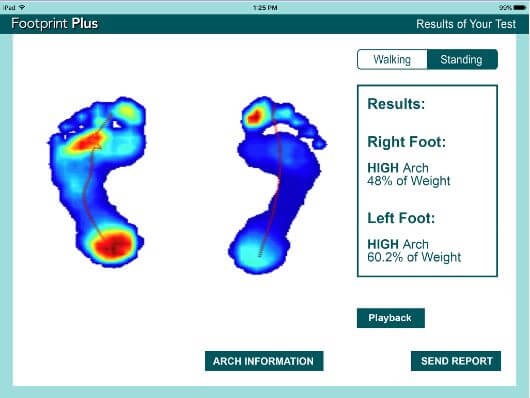 Store customers' results and information for customer service and marketing purposes.
View 2D pressure profiles to identify areas of high pressure or potential customer pain points
Evaluate Center of Force movement during walking
Identify arch type, foot and regions with highest pressure
Measure weight symmetry during standing:
Display pressure profiles of normal, flat, and high arch feet for comparison

Get insights into arch characteristics and potential concerns based on arch type

Learn more about your customers and provide a higher level of service
Reach a New Level of Customer Engagement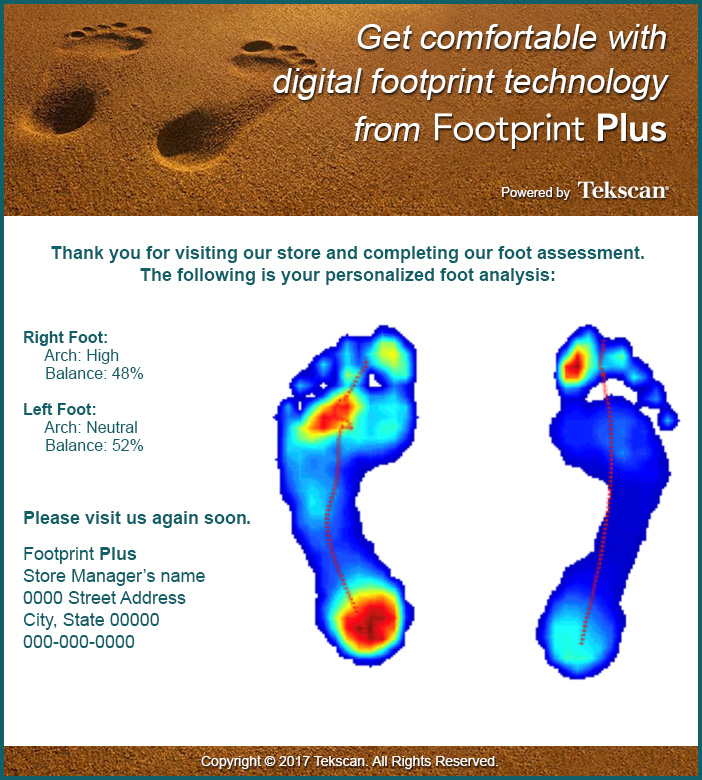 Email test results with customers' digital footprint to continue the engagement post-store visit.Build your marketing database and start creating more targeted campaigns to increase customer loyalty and foster lasting relationships with your brand.
Email test results for post-sale follow up and engagement
Capture customer contact information
Create targeted marketing campaigns based on data collected
Additional features may be added to customized solutions.
Analyze & track customer purchasing history
Integration with existing data management systems