Fujifilm's Prescale Film is a single-use, pressure sensitive film that measures pressure ranging from 0.05 to 300 Mpa (about 7 to 43,500 psi) through peak pressure snapshots. It captures a pressure profile via a color scale and reveals pressure distribution.
Description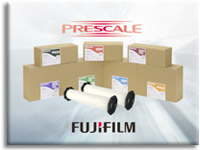 Fujifilm's Prescale™ pressure indicating film is used to measure contact pressures as low as 7.25 psi up to pressures as high as 43,500 psi. When pressure is applied, tiny microbubbles burst within the film to show the various degrees of pressure, through color density, that corresponds to the pressure and pressure distribution.
Features & Benefits of Prescale Film
Affordable and easy to use
One-time use
Static pressure measurement
Peak pressure snapshot
How Prescale Film Works

1. Cut Prescale Film to desired dimensions 2. Insert film and apply pressure 3. Remove Prescale and check density
Simply place Prescale film between any two surfaces which come into contact. Varying colors of red patches will instantly appear revealing the pressure distribution between the surfaces. The intensity of the red colors of the Prescale film is related to the amount of pressure applied to it; the more intense the color, the greater the pressure. There are seven different film types available ranging from 0.05 to 300 MPa (7.25 to 43,500 psi).
4LW Extreme Low
LLLW Ultra Super Low
LLW Super Low
LW Low
MS Medium
HS High
HHS Super High
Please see the Specifications tab for details about each type.
For enhanced data analysis of the film, the Prescale Digital Analysis System is also available.
Note: Please contact Tekscan for pricing on shipments over 5 rolls. Prescale Film can be delivered only to the United States and Mexico at this time. For further information please contact us at 617-464-4282 or by email at info@tekscan.com and we will be happy to help you with your order.
What Could Dynamic, Real-Time Pressure Data Add To Your Process?
While pressure film can be effective in capturing static peak pressure loads, an I-Scan™ System offers several features and benefits to help you capture more robust, real-time data. Watch this video and see how these pressure test & measurement technologies compare.
Configuration
There are two types of Prescale™ film: two-sheet and mono-sheet.
Two-sheet Prescale Film (Extreme Low pressure through Low pressure):
Composed of two polyester bases, A-Film and C-Film. A-Film is coated with a micro-encapsulated color-forming material, and a C-Film, which is coated with a color-developing material. The A-Film and C-Film must be positioned with the coated sides facing each other.

Two Sheet Film Type
Mono-sheet Prescale Film (Medium through Super High pressure):
The color-developing material is coated on a polyester base, with the micro-encapsulated color-forming material layered on top.

Mono Sheet Film type
Specifications
Prescale Film Physical Specifications
Pressure Ranges
0.05 to 300 MPa (7.25 - 43,500 psi)
Thinness

mono-sheet type(S): 100µm (0.004 in.)

two-sheet type(W):100µm x2

Accuracy
±10% or less based on density values
Temperature
20˜35°C (68˜95°F)
Humidity Range
35% - 80% RH
Item
Description
Psi
Type
Dimensions
4LW
Extreme Low
7.25 - 29
Two Sheet
310mm x 3m

(12.2" x 118.1")

LLLW
Ultra Super Low
28 - 85
Two Sheet
270mm x 5m

(10.6" x 196.9")

LLW
Super Low
71 - 355
Two Sheet
270mm x 6m

(10.6" x 236.2")

LW
Low
355 - 1,420
Two Sheet
270mm x 10m

(10.6" x 393.7")

MS
Medium
1,420 - 7,110
Mono Sheet
270mm x 10m

(10.6" x 393.7")

HS
High
7,110 - 18,500
Mono Sheet
270mm x 10m

10.6" x 393.7"

HHS
Super High
18,500 - 43,500
Mono Sheet
270mm x 10m

(10.6" x 393.7")
Applications
Prescale Pressure Indicating Film Applications
Prescale is used in a variety of applications. The list below outlines some of the ways our customers are using Prescale. If your application involves dynamic events or calls for evaluation of pressures over time, refer to our Tactile Pressure Mapping Systems.
Industrial

Confirm uniform loading between mechanical parts
Test correct machine assembly
Identify pressure distribution between gear teeth

Automotive

Determine contact pressures, wear patterns, and evenness in brakes, clutches, and gaskets

Paper Processing

Determine pressure distribution between rollers
Identify the proper amount of crowning

Impact

Determine pressure distribution in package drop testing
Select suitable package material

Other

Identify excessive pressure in molds

LCD