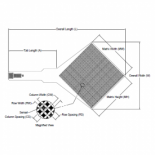 Pressure Mapping Sensor 5250HT
For use in high temperature applications.
Specifications
High temperature sensors are manufactured to support an absolute range of max pressures for all applicable temperatures. To support this range, the adjustable sensitivity of the Evolution™data acquisition electronics is leveraged. The Max pressure displayed for High Temperature sensors is the max pressure that the sensor can support (this cannot be raised 3x as standard sensors can).
The max pressure ranges for the 5250 High Temperature sensors are as follows:
MED 40 - 200 psi (275 - 1,380 kPa)